ADP: A Good Jobs Indicator, an Even Better Company
By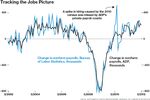 ADP reported today that the private-sector added 209,000 jobs in March, and the company revised its February number up, from 216,000 to 230,000. Not bad, considering there was some concern that we'd see a dip in hiring because warm weather seems to have pulled economic activity forward into January and February. That dip may be yet to come, though.
The ADP employment report typically precedes the U.S. Bureau of Labor Statistics non-farm payroll number by a few days, giving the market a preview of the official government jobs number, which includes both public and private non-farm payrolls. The March report will be released on April 6.
For the most part, the ADP private-sector report has been a strong indicator of what to expect from the government, although its accuracy does waver at times. Over the last six months, ADP came closest to the Labor Department's private-sector jobs number back in October, when it overstated the gain by 6,000, according to Bloomberg. Going back a decade, the ADP and BLS numbers track pretty closely with each other. From April 2002 through April 2012, they've differed by a monthly average of about 69,000.
That includes a couple of periods in which their paths diverged dramatically—most notably in the spring of 2010, when the government added thousands of temporary workers to conduct the Census. As a result, the BLS jobs number spiked to 516,000 in May 2010, only to fall over the next four months. Since June 2010, ADP's private-sector payrolls have outpaced the BLS numbers, with 371,000 more jobs than the BLS-reported payrolls, evidence of government job cuts over the last two years.
While ADP's payrolls report acts as a strong barometer of the country's total employment picture, what about ADP as a company? Founded in 1949 by accountant Henry Taub, Automatic Data Processing is the largest payroll company in the U.S., with a $27 billion market cap and a business-model that's about as dependable as they come. Each month, ADP, based in Roseland, N.J., processes payrolls for more than 500,000 businesses, taking a tiny cut from each processed paycheck. As long as companies are paying their employees, ADP's revenue (now more than $10 billion) seems safe. The company's profit margins have averaged 14.8 percent since 2005; with virtually no debt on its books, ADP is one of just four companies in the S&P 500 with a AAA credit rating—a distinction Warren Buffet's Berkshire Hathaway lost last year.
Its stock is also a darling among dividend investors. Last year ADP increased its cash dividend by 10 percent, to $1.58 per share, the 37th consecutive year of raising its dividend. Companies that combine a low credit risk with a healthy cash dividend don't exactly grow on trees. With virtually no debt of its own and about $17 billion of cash in client funds, ADP would actually prefer an environment of higher interest rates, as Seeking Alpha pointed out in January. The fact that the company has done so well amid such low rates is to its credit. Should interest rates rise in the future, so could ADP's share price.
Before it's here, it's on the Bloomberg Terminal.
LEARN MORE