Unscramble the Euro Omelet. Win $400,000!
A proposal for a 'yolk' euro and a 'white' euro
By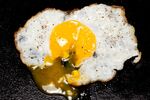 Today the sponsors of Britain's $400,000 Wolfson Economics Prize announced the five finalists of a contest for the best contingency plan for a breakup of the euro zone. The most intriguing one is by a British private investor, Catherine Dobbs, who proposes to unscramble the euro currency, quite literally—replacing it with two brand-new currencies, which she calls a yolk euro and a white euro.