The Curious Case of the 'Imposturbs'
Themed real estate developments have spread urban mimicry all over the world. But why do we want these places?
By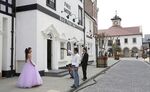 We can imagine ourselves in a lot of disparate places. We see ourselves leaning against a classical column overlooking the Mediterranean Sea, or meandering through an archway out into the Tuscan twilight, or under the swaying shadow of a Southern California palm tree. We like these places, or, maybe more accurately, we like the idea of these places. And that's why we've made sure we can have them. Through the power of architectural borrowing and imitation, we can realistically recreate the styles and motifs of pretty much whatever we want, wherever we want. A far-off building type or lifestyle can be – and often is – transplanted to a new and unrelated locale, taking us to the Mediterranean not through travel but through architecture. The world we've built for ourselves can manifest these ambitions, can materialize the idea of a place, can make tangibly real what might otherwise only be make-believe.
Themed housing developments have both carved and filled this niche of consumer desire via homes that offer a loose interpretation of a foreign land and lifestyle, often greatly detached from any local relevance. Banking on notions of places either preconceived or media-enhanced, these imposturbs have been built all over the world – especially in Asia – for a sector of the marketplace of homebuyers whose decisions seem to be driven by a desire for some foreign standard of status.
There's Beverly Hills, a residential and commercial development built in the late 1990s on the outskirts of Cairo, Egypt. There's the newly built Dubai International City, with various districts representing countries from all over the world. And there's also Orange County, a Southern California-style gated golf community of ranch homes about an hour north of Beijing. In his 2006 book Planet of Slums, author Mike Davis refers to these kinds of communities as "off worlds," out-of-place and disconnected – and, it wouldn't be inaccurate to add, a little absurd.
One of the more blatant examples of this imposturbanism is a project spearheaded in 2001 outside of Shanghai called One City, Nine Towns. It was originally intended to be a collection of nine themed towns, each one an elaborately designed replica of a traditional village or town of a foreign country – England, Spain, Sweden, the U.S., the Netherlands, Australia, Canada, Germany and Italy. Though largely built out, these towns haven't actually become "towns," as few people have moved in. In a February 2011 article from The Pop-Up City ("One City, Nine Ghost Towns"), Samo Pedersen visits and finds them mostly unoccupied.

A street in the English-themed Thames Town. Photo courtesy Marc van der Chijs / Flickr.
One of the nine towns, as it turns out, was completed. The English village, named Thames Town, now stands, complete with winding cobblestone roads, traditional English style housing and a pub. There's even a statue of Winston Churchill.
"I think one of the opportunities we saw when the project started was to create something which was unique and different," says Paul Rice, a Shanghai-based planner who was part of the team that designed Thames Town. "If you can appreciate the scale of development that is happening here, a lot of it happens very quickly and a lot of it follows a fairly rigid set of guidelines."
Rice says the town's design is not just a façade, but one that is genuinely based on the way English towns are laid out.
Even so, Thames Town is seen largely as a novelty. Located about 20 miles from the center of Shanghai and not easily accessible by train, it hasn't attracted a large residential population. It has, though, become quite popular with newlyweds. Rice says that it's commonly used as a backdrop for wedding photos, and that a number of wedding photographers have opened up shop in town to accommodate the many couples who come to town in wedding dresses and tuxedos.
Rice says it's also become a popular set for ads and TV commercials.
"Maybe half the car ads I see on the metro in the morning have Thames Town as a backdrop, or in the TV, if you pay attention to that yogurt commercial, in the background are the streets of Thames Town," says Rice.
That the stage set-like atmosphere of this project lends itself perfectly for such a use speaks more broadly of the general goal of this type of themed development: appealing to that side of consumerism that favors the familiar.
"It's just an attempt to create something that is so similar to what is known that it gives it some special meaning in the marketplace," says Glenn Crellin, associate director of the Washington Center for Real Estate Research at the University of Washington. He sees theming as essentially a developer's marketing tool that relies on people's desires for what they already know, or what they perceive as being desirable.
That impulse can take a variety of forms. Last year, residents in the small Austrian mountain town of Hallstatt were shocked to find that developers in China were planning a full-scale replica of their town in Guangdong province. The developers had secretly photographed the entire town and were planning a near-exact copycat version of Hallstatt, a UNESCO World Heritage site.
More often, these projects merely piggyback off the reputations of existing places by adopting their names and housing styles.
"Whether it's Hollywood, Beverly Hills or whatever, they're trying to create that image of celebrity and the image of very high-end kind of community," Crellin says. "Obviously the place names that are being chosen are some of the more exclusive communities within the U.S."
Take Palm Springs, a gated community outside of Hong Kong built to imitate the posh lifestyle of the desert resort town. The project was built in the early '90s, and features three-story homes with terraces and backyards ideal for barbecuing.
Or consider the Orange County Resort, on the Mediterranean coast in Kemer, Turkey. Despite its Southern California namesake, the resort is actually modeled after the Dutch fishing village of Volendam, complete with 16th century Dutch-style architecture and an iconic windmill. The famous red light district of Amsterdam is even replicated here, according to the resort's website.
With a nod toward an American billionaire, South Forbes Golf City in Santa Rosa, Philippines, is a collection of internationally themed neighborhoods, all centered around a country club. Mansions in the development are styled after buildings in Tokyo, Bali, Phuket, Paris, Scandinavia, Miami, and the Mediterranean. Its "city center" even includes a Rodeo Drive.

One of the home designs available in the Georgia Club neighborhood of Santa Elena City in the Philippines.
Santa Elena City, another development in the Philippines, celebrates itself as "the New South," and features themed neighborhoods like the Georgia Club, where "Southern American charm and quiet elegance envelop each home." Santa Elena has a golf course and nine themed areas, including one solely for the development's staff. Its website offers a poetic, if deeply flawed, marketing message:
What is real…

What is honest…

What is true…

What took root more than 20 years ago is now in full bloom.

This is authenticity. This is Sta. Elena City.
This style of imitation building is not new. In fact there's an early example right here in the U.S., the 1920s-era development of Coral Gables, Florida, where developer George Merrick and the American Building Corporation built six themed villages: the Florida Pioneer village of southern colonial homes, the 18th century French village, the French Normandy village, the Dutch South African village, the Italian Village and the Chinese village.
The houses still stand today, and are among the most revered historic buildings in town. More were planned, including projects in the style of "Neopolitan Baroque" and "African Bazaar," according to Ellen Uguccioni, former director of the City of Coral Gables Historic Preservation Department.
These early themed developments were designed meticulously by architects with firsthand experience in the places that inspired each village.
"There is this visionary aspect of using the best architects who knew the design details to design those houses," says Uguccioni. "They weren't just a bunch of hacks."

A home in the Chinese Village of Coral Gables, Florida. Photo courtesy The Miami Story / Flickr.
The prevalence of these same sorts of imitative themed developments in today's China has many causes, but it's certainly not unique to China. The desire for prestige and status spans borders.
"To a certain degree, it's no different than all the various brand names that you might see for handbags or something. [Developers are] all trying to hit upon the Louis Vuitton of residential architecture," says Thomas Campanella, whose book The Concrete Dragon explores the rapid urbanization underway in China. "It's a brand consciousness. It's very consumer driven."
The scale and speed of development in China has created an exaggerated urban atmosphere that attempts to construct the signs of success as interpreted through places like the U.S. and western Europe, and even through images from TV and movies.
"It's a mixture of the Chinese tradition of taking or copying other forms and styles as a very normal thing, with a western stylistic reference of what nice buildings should be like," says Zhao Chen, a professor at the University of Nanjing School of Architecture.
The underlying message in the majority of themed developments in China and all over the world is wealth. Campanella points to less obvious themed developments in the U.S. Countless subdivisions have been built throughout the U.S. in the Tuscan style or so-called Mediterranean style. He even points to the mock-Tudor homes in the Brooklyn neighborhood where he grew up.
"If anything, it's more superficial in China than the stuff we once did here," Campanella says. "At least here there was a certain cultural continuity. This country was settled by people who were from England, so the transference of the Tudor style was not all that out of the realm of reason."
And though many themed developments are still being built in China, Campanella sees the younger generation as more comfortable looking to their own cultural past for inspiration than to outside influences. Zhao agrees.
"I feel positively that it's changing because we have more young people and they understand the western culture better and better," says Zhao. "The younger generation, I'm sure that they're starting to believe that we don't need this kind of imitation."
Rice, the planner of Thames Town, says things are starting to shift, but that many developers still come to his architecture firm with their minds set on building themed projects in a Spanish or Italian style. But he's starting to see more locally inspired projects that are actually themed to mimic traditional Chinese architectural styles.
"Ten years ago it would have been hard to suggest a Chinese-themed residential development," Rice says. "Quite often in that time we were told that people don't want to live in something that looks like something their grandmother or their parents lived in. Whereas now the market has moved on."
It's no crime to take inspiration from existing buildings or lifestyles, and it's hard to imagine a time when places or people do not take at least small hints of guidance from others. Maybe it's a triumph that people in China and Florida can have a French-styled chateau just as easily as someone in France. But it's hard to see anything more than desperation in outright carbon copies of places built for the purpose of creating some instant esteem for their residents. Imitation may be a form of flattery, but it's also a form of denial. And unless places embrace what's unique about them, they'll be little more than a copy of a copy.
Top image credit: Nir Elias / Reuters