Tapping Your Inner Gambler to Encourage Thrift
By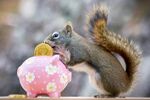 Rather than blow your cash on Mega Millions fantasies, Priya Haji wants you to save it. In November, the serial entrepreneur launched SaveUp, a site to teach financial literacy and reward users for squirreling away money in savings accounts and paying off car loans. Prizes include African safaris, Apple gizmos, vacuum cleaners, airline tickets, student-loan payoffs, cash—anything, really, that SaveUp sponsors want to flog, with Haji's approval.
The seven-person San Francisco startup isn't building a financial data aggregation tool. It uses existing technology from Intuit to monitor SaveUp users' activity at some 19,000 financial institutions. Every time a user deposits money in a savings or debt-bearing account the user has linked to a SaveUp account, he or she earns credits to play virtual games of chance to win the prizes. SaveUp makes money from brands that advertise their products on the site and financial institutions that pay subscriptions for customized content for their customers, and for customer referrals.
"For a long time, banks focused on rewards in a very simple sense: 'We want to drive interchange fees, meaning spending on our credit cards, so we'll just tie rewards to that action,'" says 41-year-old co-founder and chief executive officer Haji, whose earlier venture, online marketplace World of Good, was acquired by EBay in 2010. "[What consumers] really want to focus on right now, especially coming out of the recession, is not just increasing spending on their credit cards, but actually growing their assets and reducing their debt." The number of debit-card payments increased from $25 billion in 2006 to nearly $38 billion in 2009, the most recent year the Federal Reserve tracked, while credit-card payments held steady at around $22 billion during the same time period.
Outstanding consumer debt hit $2.51 trillion in January, the biggest three-month gain in more than a decade, Bloomberg News reported last month. So figuring out effective ways to encourage saving makes sense, says Matt Davis, director of innovation at the Filene Research Institute, a think tank in Madison, Wis., for credit unions. He notes laws in most states prohibit financial institutions from holding their own lotteries to reward customers for making deposits. In 2009, his group helped launch a prize-based savings account program with credit unions in Michigan, where a loophole existed. "Because of the success of that program, other states have started to think about changing their laws," Davis said.
SaveUp isn't a financial institution, which means it doesn't have to worry about those laws. It's partnering with the Filene Research Institute and rolling out customized content for 20 credit unions across the U.S., tailoring financial advice for their members. For example, says Haji, "we see that you have a car loan that you linked to SaveUp rewards; you're earning rewards but this car loan is charging you a 30 percent interest rate because you got it from a used car dealer. We could, as a credit union, refinance that car loan for you."
Haji says SaveUp users have deposited about $30 million into savings accounts and paid down nearly $26 million in debt. Nearly one-third of users who register an account return daily to play games using credits they've accumulated and try to win prizes, although Haji won't say how many accounts are linked to the company. That kind of consumer traffic and financial information has a large potential upside for the company, says Rafi Mohammed, a pricing consultant in Cambridge, Mass. "The real payoff [for SaveUp], when you sign up, is if you agree to allow financial-services institutions to market to you," he says. "Are the sweepstakes really going to be enough to attract enough eyeballs?"
Like any big sweepstakes, the odds of winning aren't great. Odds on SaveUp's $2 million monthly jackpot are 1:170,230,452; they improve on smaller prizes—1:4,133 for $10, for example. By comparison, the odds on Mega Millions' March 30 record jackpot of $640 million were 1:175,711,536. Haji says hundreds of people have won prizes, although she pegs their total value at less than $25,000, because no one has won anything huge yet. Haji says SaveUp, which received $2 million in a seed round when it launched, "has resources to meet [the $2 million jackpot] obligations if someone won every month."
But for SaveUp, the size of a prize isn't really the point. "Why do people play the lottery? They play for that little bit of excitement and the experience and the possibility of what could happen," Haji says. "Here, it's that you're getting some of that same fun but you didn't spend your money—you deposited it in your savings account or you paid off your debt."
Before it's here, it's on the Bloomberg Terminal.
LEARN MORE