Alaska's Answer to the Dreaded Resource Curse
By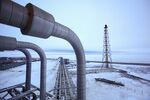 Libya's new government has been tracking down billions of dollars in assets that have gone missing from the nation's sovereign wealth fund, the Libyan Investment Authority, long a personal plaything for members of the late Muammar Qaddafi's family. As financial authorities in Tripoli consider how to reform its fund to better manage the nation's oil wealth, they might want to take a look at the Alaska Permanent Fund, something of a gold standard for transparency and investment smarts in the sovereign wealth fund world.
In fact, the team in Juneau running the $41.4 billion fund occasionally receives visitors from resource-rich states such as Azerbaijan and Mongolia seeking guidance on managing sovereign wealth Alaskan-style. The world's 50-odd biggest sovereign wealth funds—state-owned investment vehicles usually funded by commodities such as oil and minerals—control about $5 trillion in assets, according to the latest ranking from the Sovereign Wealth Fund Institute. The Alaskan fund is in the middle of the pack and far smaller than the Abu Dhabi Investment Authority ($627 billion in assets) or Norway's Government Pension Fund ($611 billion).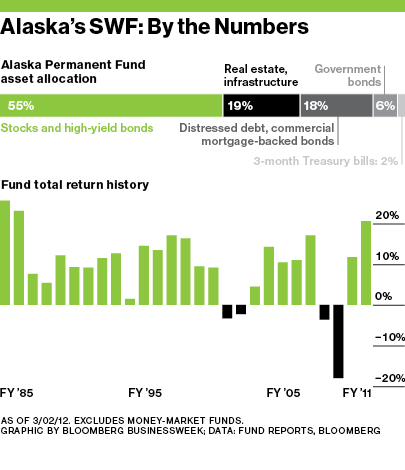 The Alaskan SWF is a standout in other ways. First, it's structured in such a way as to avoid the worst excesses of the so-called resource curse—that tendency of state-controlled commodity wealth to engender corruption, graft and wasteful government spending. "Alaskans understand at the deepest level that they own the state's resources," says Alaska's Republican Gov. Sean Parnell. "Everyone owns Alaska's oil and gas."
In a state known for its libertarian streak, voters in 1976 signed off on a state constitutional amendment to set up permanent fund to cordon off a big chunk of that oil windfall from the designs of state lawmakers. Back then, Alaska had started to accumulate serious wealth from its energy leases on the North Slope and the Legislature was eager to spend. Yet with  the 1976 amendment, at least 25 percent of Alaska's annual mineral royalties had to go into the fund and couldn't be spent on government services.
The fund also pays an annual dividend directly to eligible Alaskan citizens based on a five-year average of the fund's income. (In 2011, each Alaskan received a check for $1,174.) Though the dividend is a bit low by historical standards—it topped $2,000 in 2008—the payment can add up to about one quarter of the annual income of a small village in the state, says Mike Burns, executive director of the Alaska Permanent Fund. There is no state income tax in Alaska.
In its last full fiscal year, the fund's managers delivered a 20.6 percent return, its third highest in history, and total assets finally recaptured the $40 billion mark, where the fund had been in late 2007 before the global financial crisis. During the darkest days of the crisis in March 2009, when the S&P 500 sank to a 12-year low of 676 and the Alaskan fund's value plummeted to $26 billion, Burns' team invested $750 million in equities that ultimately paid off handsomely for the fund. "It was as close to a bullseye as you can get," says Burns.
A detailed breakdown of the fund's portfolio is just a mouse click away for investors. The Alaska fund's website details top equity positions,  (Apple, Exxon Mobil and Google, various real estate holdings (New York, San Francisco, Houston)  and the market value of its entire portfolio is updated daily. "They are transparent compared to other sovereign wealth funds," says Michael Maduell, president of the SFW Institute. About 21 percent of the funds assets are managed by a prominent group of Wall Street asset managers like Goldman Sachs and Pimco, and hedge funds such as Bridgewater Associates.
Alaska currently has a robust fiscal balance and the fund is performing well. The only worry on the horizon (and it is decades off) is what happens when Alaska's oil wealth runs dry. Parnell has been an outspoken critic of federal restrictions on drilling a portion of the Arctic National Wildlife Reserve. "We've got the resources here that can contribute to the country's energy security," he says. That may be true, but Alaska will need to find ways to diversify its economy beyond energy in the years ahead.  If Alaska's fund continues to invest wisely, the state may have the resources to get there.
Before it's here, it's on the Bloomberg Terminal.
LEARN MORE