A New Twist in B-School Recruiting
Alison Damast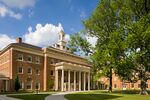 Companies that want to foster deeper relationships with business schools typically send recruiters to campus, bring executives to speak in classes, and hire students for internships and full-time jobs. This year, Nielsen Holdings, a global information and measurement company, took that relationship one step further, moving into an office in Miami University's Farmer School of Business campus in Oxford, Ohio, and holding office hours several times a week.
The company's physical presence on campus is part of Nielsen's effort to work more closely with six schools with which it has strategic partnerships, including New York University, Northwestern, and Rutgers, says Susan Hunsberger, senior vice president of human resources at Nielsen. The company works closely with these institutions, sponsoring classes and case competitions and dispatching Nielsen executives to work with students. The Farmer School is the only one that provides a physical space on campus at which students and faculty can talk to company representatives about how to most effectively use Nielsen data for class projects, she says.
"It really is about developing a partnership that helps the students recognize we've got a vested interested in them," she says.
The alliance between the school and Nielsen grew as a result of the company's work with it over the last few years, says Farmer School Dean Roger Jenkins. About 75 alumni from Miami University currently work at Nielsen and frequently visit the school as guest lecturers, judges in business competitions, and sponsors of classes in which students act as consultants to solve real-world problems that face companies. Says Jenkins: "We wanted to take the relationship to the next level."
Universities setting aside office space for companies on campus could be the next step in  B-school corporate relationships, says Jenkins, who expects other universities to follow suit. His goal? To establish similar relationships with five to seven additional companies in the next five years.
"Companies are trying to raise the game a bit in how much brand coverage they get on campus, which is a good thing," he says.
Students and faculty are taking advantage of Nielsen's presence on campus by making use of the company's wealth of consumer data in some of the school's more experiential, data-driven classes. For example, seniors in the marketing department's High Wire Brand Studio class are using Nielsen data this spring to help one of Nielsen's clients with brand positioning, category sales, and strategies to differentiate itself from the competition, says Gillian Oakenfull, an associate professor of marketing and director of experiential learning.
Erica Kahler, 21, a senior at the Farmer School taking the High Wire Brand Studio class, says she frequently stops by the Nielsen office to speak about how to collect and analyze consumer data for a project her team is working on for Pantene, a Procter & Gamble product.
"Being able to actually go every week and talk with an analyst at Nielsen about the best way to go about conducting a focus group or survey helps us better execute our work," Kahler says. "You also start to build relationships with them, which can turn into internships and jobs opportunities."
Nielsen's constant presence on campus seems to be paying dividends for both the company and students. Nielsen has increased its hiring of Farmer students by 40 percent over the last five years, having hired 22 students from the B-school last year, Hunsberger says. Five or six students from the school will serve as interns this summer, she says
"We've seen a significant increase in interest in our company over the last couple of years, and we attribute it to this relationship we have with the school," says Hunsberger. "This is just a natural way to create visibility and to create a buzz around your company."
Join the discussion on the Bloomberg Businessweek Business School Forum, visit us on Facebook, and follow @BWbschools on Twitter.
Before it's here, it's on the Bloomberg Terminal.
LEARN MORE