(Un)friendly Fire at Glock
Paul M. Barrett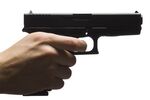 Bloomberg Businessweek recently offered an unusual behind-the-scenes look at the family strife that's raising questions about the future ownership and management of Glock, the world-famous Austrian pistol manufacturer. Now the legal shootout within Austrian's wealthy Glock clan is getting more intense. The younger son of firearm magnate Gaston Glock has fired a warning round in the U.S. criminal proceedings against a former senior company executive convicted of embezzling from the elder Glock.
Whew. Let's take a moment to recap the hostilities.
Last December, Helga Glock, Gaston's wife of 49 years until they divorced earlier in 2011, filed a civil lawsuit in an Austrian court seeking to regain a significant stake in the family-owned corporate empire, which manufactures handguns used by two-thirds of all American police departments. Helga, 71, alleged that her 15 percent piece of the company was improperly shifted from her by advisers to her 82-year-old ex-husband and his new wife, Kathrin Tschikof, 31.
Since 2010, the suit states, Helga Glock and her three adult children with Gaston have all been ousted from their roles with the company. The suit describes how Helga and her offspring—Brigitte, Gaston Jr., and Robert—spent decades helping expand the family company from a garage metal shop into a global powerhouse.
A spokesman for Gaston Glock told Bloomberg Businessweek that his client would not comment on private family matters that have no bearing on the company.
Today, in a state court in suburban Cobb County, Ga., Robert Glock took his own swipe at his father.
Glock Inc., the firearm manufacturer's American unit, which is located in the city of Smyrna in Cobb County, has publicly encouraged local authorities there to prosecute a former top American executive, Paul Jannuzzo, for allegedly embezzling large sums of money from the company before he had a falling out with Gaston Glock in 2003. Jannuzzo was convicted last month of conspiring with another former executive to skim millions of dollars from the international manufacturer. He could face up to 30 years in prison.
The conviction on state racketeering charges was built on several allegations of wrongdoing, including a curious charge that Jannuzzo had stolen a single pistol from Glock Inc. Jannuzzo's lawyers claim he was wrongly accused as part of a vendetta by Gaston Glock and the company. In particular, the defense has contended that Jannuzzo attempted to return the pistol in question (not a Glock, by the way) when he left the company in 2003.
In a sworn affidavit filed as part of a post-trial motion seeking to reverse the jury conviction, Robert Glock essentially corroborated Jannuzzo's account. Robert Glock said that in 2003 he told his father that Jannuzzo wished to return several loaned firearms to Glock Inc. "My father said that he would take care of the request and no further action by me … should be made," Robert Glock said in his written statement.
In Robert Glock's telling, Jannuzzo tried to give back the disputed gun. If that were true, the government's racketeering theory might fall apart. "Despite this significant exculpatory evidence," according to a defense filing, "the prosecution did not contact Mr. Robert Glock about this event. There is no indication in the record that anyone from the district attorney's office nor investigating law enforcement officers even spoke with Gaston Glock concerning the pistol loan."
The defense has asked the trial judge to throw out the conviction and disqualify the Cobb County District Attorney's Office, based on the prosecutor's alleged willingness to do Glock Inc.'s bidding. "When Glock presented its case to the Cobb County District Attorney's Office there was no detached investigation or evaluation of the merits," defense attorney John Da Grossa Smith wrote. In interviews before his trial, Jannuzzo said that one reason he believes his former employer sought to have him prosecuted was jealousy over a woman who also used to work for Mr. Glock and whom Jannuzzo married.
In a responsive filing, the district attorney, Patrick H. Head, said his office would stand by its actions and the jury's verdict and would oppose Jannuzzo's motion for a directed verdict of not guilty.
A sentencing hearing has been set for April 11, at which time the judge is expected to address Robert Glock's surprising intervention in the case. We'll keep Glockmeisters and others interested in the gun trade posted.
(Paul M. Barrett, an assistant managing editor of Bloomberg Businessweek, is author, most recently, of GLOCK: The Rise of America's Gun.)
Before it's here, it's on the Bloomberg Terminal.
LEARN MORE