The 'Thrilla on the Hilla' as Canadian Politicians Come to Blows
By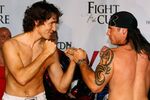 Here's one way to break the political gridlock in Washington: Move the brawls to the boxing ring. Two Canadian politicians tried to knock each other senseless on Saturday night in front of a sold-out crowd in Ottawa. One emerged the victor: Liberal Member of Parliament Justin "Too-Pretty" Trudeau, an underdog who beat 3:1 odds to win a third-round technical knockout against Conservative Senator Patrick "Patronage" Brazeau. Both men scored hefty PR points in the heavily promoted charity bout by showing both their brawn and their wit to constituents.
As he reflected on his victory, Trudeau said on April 2 that he wasn't surprised people underestimated his ability to take on a former soldier with a black belt in karate. "I'm tall and lanky and people may think I had a cushy upbringing because of my dad," says Trudeau, a 6-foot-2, 180-pound Montreal native whose late father was Prime Minister Pierre Trudeau. He trained six months to take on "the pretty scary looking" Brazeau, a 5-foot-10, 183-pound Algonquin who sports both aboriginal tattoos and bulkier biceps.
Indeed, Trudeau admits that the first 30 seconds didn't look promising: "Pat hit me harder than I've ever been hit. I saw stars and my knees went weak. But then he exhausted himself 100 percent and it was all mine."
South of the border, the March 31 match is yet another reminder that politics doesn't have to be a humorless pursuit. The so-called Thrilla on the Hilla has featured plenty of trash-talking, innuendo, and jokes in the press. In his play-by-play of the evening, National Post reporter Steve Murray wrote he'd heard that while Canada's Conservative Prime Minister Stephen Harper wasn't there, he was watching, "which sounds a little terrifying actually, like Big Brother, or a Conservative Santa Claus."
For Matt Whitteker, who co-owns Ottawa's Final Round boxing club, the bout proved that nobody can raise money like a politician. When Whitteker first launched "Fight for the Cure" in 2008 to raise money for cancer research—pitting a local sports anchor against a columnist—the event netted only $500 after costs. This year, more than $230,000 will go to fight cancer. What helped was getting Trudeau, a 40-year-old MP known for his public causes, acting, and famous last name. "Justin has real star power," says Whitteker. "He's the closest we have to the Kennedys." Brazeau is a draw, too. At 37, he is Canada's youngest senator and the former national chief of the Congress of Aboriginal Peoples.
As part of his penance for losing, Brazeau had part of his signature pony tail chopped off by Trudeau on April 2 in the foyer of the House of Commons. He must also don a Liberal hockey jersey for a week, with Trudeau and No. 1 emblazoned on the back. The Conservative Senator has also been renamed "Senator Speedeau" in some quarters for the Speedo he donned at the weigh-in.
Trudeau, who left the bulk of Brazeau's haircut to a professional after a ceremonial trim, has declined a rematch. He seems happy to look less like a princeling, now that he's proven he can throw a punch. "When you think of celebrity boxing in the United States, it's the kind of thing you associate with [former Partridge Family child actor] Danny Bonaduce," he says. "But this was serious business. As I approached my "crise de la quarantaine" (the French form of a mid-life crisis at 40), I was determined to get in the best shape of my life. And I am."
All in all, the two men spent about five minutes in the ring for the Olympic-style bout. (Both have a personal connection to the cause, as Trudeau's father died of prostate cancer and Brazeau's mother died of lung cancer.) The money raised looks like chump change next to the political budgets in Washington. Moreover, a casual search of Twitter shows that a subset of Canadians was clearly annoyed at the glorification of what they consider to be a brutal and stupid sport—though many compared it favorably to the customary brutality of politics.
The payoff for both men seems immense. Not only did the political pugilists draw national attention to their good deed for charity (Trudeau also used it to draw attention to a youth program cut in Harper's recent budget), they each achieved the rare coup of being an elected official praised as a mensch.
As Andrew Potter, managing editor of The Ottawa Citizen, noted in his assessment of the bout: "By the time the night was through, the MP and the Senator had demonstrated more courage, sportsmanship, mutual respect, and yes, honour, than most of their colleagues will in their entire careers in Parliament." Trudeau, for one, hopes his brief stint in the ring will reinforce an image with constituents as someone who's willing to fight and stand up for his rights. It seems to have proved that at least some politicians can wear Speedos and emerge with their dignity intact.
Before it's here, it's on the Bloomberg Terminal.
LEARN MORE