The Supreme Court May Give Mitt Romney a $780,000 Tax Cut
By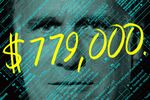 (Updated with new, larger estimate from Richard Rubin)
If the Supreme Court decides to strike down President Obama's health-care law—which seems a lot likelier today than it did a week ago—one effect would be to eliminate the law's 3.8 percent tax on unearned income that's set to take effect Jan. 1, 2013, and will help fund the expansion of insurance coverage. As Margaret Collins and Richard Rubin note in a new Bloomberg News story this morning, that tax, should it survive, will hit private equity managers particularly hard, since much of their earnings comes in the form of carried interest and other capital gains. "Investors in these funds and also the managers in these funds are likely to incur this tax," Elizabeth Kessenides, a tax attorney in New York, told Collins and Rubin. "It looks like they'll be caught."
As it happens, a very prominent former private equity manager, and current investor, who's set to become the Republican presidential nominee has a lot of money at stake in the court's decision. In January, after coming under considerable public pressure, Mitt Romney released his 2010 tax return, and from that return it's possible to glean how much the GOP frontrunner stands to benefit from a decision against the health-care law.
According to the filing, which Romney posted on his campaign website, he and his wife Ann earned $21.6 million in 2010. Of that amount, $7.4 million was carried interest (per his campaign's counsel, Ben Ginsberg), and more than half his total income—$12.6 million—came in the form of capital gains. Relative to current law and assuming his 2013 return resembles that of 2010, Romney would realize a tax savings of $478,800 if the Supreme Court wipes out Obamacare.
That would be great news for Romney's tax bill. But it might not be so great for his political fortunes, because it would tie the sudden elimination of a broad, middle-class benefit to a pretty whopping tax cut for someone who is already under intense scrutiny for paying such a low tax rate—Romney paid 13.9 percent in 2010. That is exactly the sort of rich guy/ordinary guy disparity that the Obama campaign is going to be keying on if—really, when—Romney becomes the nominee.
UPDATE: Richard Rubin just noted to me that Romney's tax savings could be substantially larger than the $478,800 I'd estimated. That's because, in addition to the capital gains, he received $3,295,727 of interest and $4,923,348 of dividends (and then $279,884 of rental/royalty losses that would presumably net against that).
Without the rules — and a sharp lawyer who understands the laws governing passive income — we can't know for certain, but Rubin estimates that the total tax bill (based on 2010) that could be wiped out by a negative court decision would be more like $779,473. That's because almost all of Romney's income — besides his state tax refund and the business income from his public speaking — was "unearned" and thus would be subject to the tax.
Before it's here, it's on the Bloomberg Terminal.
LEARN MORE