SecondMarket Cuts Staff to Prepare for Post-Facebook Reality
by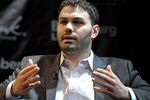 There's no doubt that SecondMarket likes Facebook. The private marketplace—where investors and company insiders can buy and sell shares of companies that aren't publicly traded—got a huge boost as it became one of the few places where investors could get a stake in the high-profile social network. More than $1 billion in shares of Facebook and other private companies have traded on SecondMarket since 2009.
As Facebook closes in on its initial public offering—and no private company is generating the kind of investor excitement that the social network has—SecondMarket has to adjust to a new reality. On Friday the company laid off 10 percent of its 150-person staff. "In a post-Facebook market world, we have decided to eliminate some positions that are no longer core to our company's long-term mission," SecondMarket said in a statement.
Without more Facebook auctions, SecondMarket will rely on the popularity of other tech companies, including Twitter, Foursquare, and Dropbox, which it says are the three most watched venture-backed companies on the exchange. "The vast, vast majority [of companies] aren't serviced by the public markets," Chief Strategy Officer Jeremy Smith told Bloomberg Television this afternoon. "They're just too small." He said SecondMarket is launching a pilot program to let fund managers raise capital for alternative investments, such as wine or diamonds. And it's also turning to an unlikely new initiative to trading shares in a far less trendy sector: community banks. Last month, Bloomberg Businessweek wrote about how SecondMarket wants to make it easier for shareholders—often board members and local businesspeople—to buy and sell the often illiquid shares in banks.
The pilot program is just now getting off the ground, as SecondMarket recruits 4 to 6 banks to participate. Meanwhile, Bloomberg News reported that Facebook asked the secondary markets to stop trading its shares in early April and that SecondMarket's last auction of Facebook stock will be on April 3. For Facebook, going public means testing its appeal among the broadest possible investor audience. For SecondMarket, the Facebook IPO will test its ability to survive without its best friend.
Before it's here, it's on the Bloomberg Terminal.
LEARN MORE