How Long Will Markets Stay Calm?
By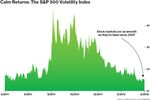 Call it the calm after the storm: Markets are now more placid than they've been in years. Volatility across a range of assets is now at the lowest level since 2007. The Chicago Board Options Exchange Market Volatility Index, or VIX (also known as the fear index), which tracks the expected price of buying protection against declines in the S&P 500, is now down almost 70 percent from early August, when it peaked at 48. It hasn't closed above 15 since March 12.
This is a far cry from the roller-coaster days of August and September 2011, when a triple-digit move in the stock market was practically a daily occurrence. Remember last August, when the Dow Jones posted four consecutive days of 400-point moves? According to some calculations I did at the end of September (when I was writing for Freakonomics), the Dow moved up or down by 100 points or more on 62 percent of the trading days from the end of July through the end of September, with an average daily move of 188 points, or 1.6 percent. By comparison, there've been only six triple-digit days during the first three months of 2012: five up and one down.
This five-month decline in volatility has coincided with a nice run-up in stocks. The Dow has risen 25 percent since volatility started declining steadily in early October. The Dow is now above 13,000 for the first time since April 2008. But, as Bloomberg reports, all these calm waters are making some investors nervous. Like that scene in a movie where someone says (forebodingly), "It's quiet, almost too quiet …"  just before something terrible happens. After all, the last time the VIX declined well below historical averages was in January 2007, right before the U.S. economy started to shrink.
Some strategists see this as in line with historical volatilty cycles. "The VIX is acting exactly how it's supposed to act; this is the playbook," says Jim Strugger, derivatives strategist at MKM Partners. If you go back to the inception of the VIX in 1993, Strugger says that historically, volatility stays low for about six months after a "volatility shock" ends. He points to mid-December, when the VIX began trending below 25, as the end of the most recent volatility shock. "From there," he says, "that gets you to around mid-June or July, when you'll see VIX start to spike again." That will likely coincide, Strugger says, with a decline in the S&P 500. Enjoy the calm waters while they last.
Before it's here, it's on the Bloomberg Terminal.
LEARN MORE