ForumWatch: Greg Smith's Goldman Critique
Francesca Di Meglio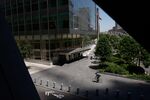 Greg Smith, the Goldman Sachs executive who resigned in an op-ed piece for the New York Times, has received lots of attention. And participants in the Bloomberg Businessweek Business School Forums are no exception. A spirited discussion about the merits of Smith's criticism of his ex-employer, and of Goldman Sachs as an industry leader, is taking place right now.
Some of the comments were rather lengthy. One participant felt the Times and Smith handled the situation poorly because Goldman Sachs was not given a chance to respond, as it would have been if this had been a standard news article. Another had worked at Goldman Sachs and expressed satisfaction that this discussion is happening around the world. All the commenters had something to say about the relevance of this topic to their lives.
To participate in the conversation or read what participants had to say, visit the "Goldman Sachs Op Ed" discussion thread.
Editor's Note: This blog post is part of a series about discussions taking place on the Bloomberg Businessweek Business School Forums, where prospective MBA program applicants, current students, and recent alumni trade admissions tips, job-hunting advice, and the occasional barbed comment. We invite you to join these discussions or start one of your own.
Before it's here, it's on the Bloomberg Terminal.
LEARN MORE