Forget Gas Prices—Air Fares Are Getting More Painful
By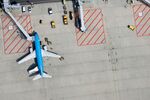 A summer vacation involving a flight might come with sticker shock this year. The reason: Domestic U.S. airfares are surging as airlines reap the benefits of industry consolidation and big capacity cuts amid a backdrop of rising fuel prices.
Airlines have pushed through three fare increases so far in 2012, following nine hikes in 2011 and three in 2010, according to data compiled by FareCompare.com, a Dallas-based fare-tracking company. The average domestic fare was $470 in the fourth quarter of 2011, according to data from Airlines Reporting Corp. That's approaching the $488 the industry achieved in the last three months of 2007, before the U.S. housing bust and subsequent financial crisis pinched fliers' ability to spend on travel. (Average fares dipped to $385 in the spring of 2009.) ARC handles settlement transactions between airlines and travel agents, accounting for about half of all North American ticket sales. The cheapest average round-trip for flights among the 50 largest U.S. cities was at $362 on March 30, nearing the $368 high reached in March 2011, when oil had again surpassed $100 per barrel, according to FareCompare data.
Crude oil prices have jumped nearly 30 percent over the past six months, to $103 per barrel as of March 30. And while high fuel costs are likely to send several airlines into the red for the first quarter of 2012, the industry is mitigating that pain with its determination to raise fares. "When airlines have successful hikes … that's a pretty good indicator that they feel pretty good about demand," says FareCompare Chief Executive Officer Rick Seaney.
Historically, such pricing power has eluded airlines. The difference now? Far fewer seats are in the air. Airlines have culled capacity since mid-2008, when oil hit a record $145 per barrel and jolted the industry. That shock sparked consolidation and instilled a discipline about shrinking strategically, both to cope and to make money. Helane Becker, an analyst with Dahlman Rose and Co., describes the industry's new pattern: Jet fuel costs rise, so airlines respond with higher fares and fuel surcharges. Then, because of the higher ticket prices, passenger traffic dips, so airlines respond by cutting capacity—not fares, as they once did.
Last week, United Continental, the world's biggest carrier, said it would cut its overall capacity for 2012 by as much as 1.5 percent. (In the same filing, the company said its domestic advance bookings into May were running ahead of the same period last year.) Other carriers also plan to trim capacity for 2012, fearful of oil's continuing pain. "I think it's a good time for them because they're smarter," Becker says of airline executives. "They're not chasing market share, they're chasing profits, and I think that's the key."
The cuts have helped airlines pack planes fuller than ever. Industrywide, U.S. airlines had a passenger load factor of 82.7 percent in 2011, the highest of any year in records dating to 1948. United has filled 80.6 percent of its overall seats this year, nearly 1 percentage point higher than a year ago, while the second-largest, Delta, was at 79.6 percent for February—3.2 percent above the prior year. This resilience amid higher oil prices has been well-received by investors: United shares are up 14 percent for 2012, Delta has gained 23 percent, and US Airways has jumped nearly 50 percent. The Bloomberg U.S. Airline Index gained 12.5 percent in the first quarter.
Seaney, the professional fare watcher, predicts that airlines will attempt three or four further fare increases before the summer travel season begins, with some of them sticking. While a sale or two might pop up, he says, those would largely be aimed at helping to fill empty middle seats on off-peak travel days. Carriers, says Seaney, would "like to look more like GE than an airline."