Dropbox's Siren Storage Song Woos Bono
The U2 front man and The Edge ante up to get into the online-storage game
By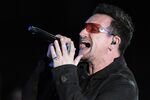 Welcome to the latest installment of startup investing as performance art.
On Monday, Dropbox delivered a Tweet that revealed Bono and The Edge have put their own money into the cloud-based storage company. The U2 celebrities now find themselves in the midst of a feeding frenzy around online storage startups. Dropbox, for example, has raised more than $250 million, while Box has raised $162 million.
Online storage was sexy about a decade ago, with dozens of start-ups—remember PhotoPoint.com?—offering people free space online to store their files. Most disappeared after finding it too costly to run their services, not to mention that consumers lacked the fast bandwidth needed to make online storage bearable.
Dropbox's focus on consumers has succeeded and then some. About 50 million people now use the service. Box, by contrast, caters more intently to companies and has about 10 million users.
We'll know soon if Bono is making a sound investment. His onetime buddy, the late Steve Jobs, derided Dropbox as "a feature" after Dropbox turned down an acquisition bid. Apple, Microsoft, Google, and Amazon.com all want a piece of the consumer side of the  market and can offer online storage for free, or at a very low cost. Meanwhile, Dropbox will counter the big boys by trying to be a neutral player with software that works just as well on Windows as it does on Android or iOS.
Dropbox's founder Drew Houston is something of a crooner. You can find him here, belting out a tune at a bar during Davos. He and Bono have undoubtedly shared many a "we still haven't found what we're looking for" and "all that you can't leave behind" giggles since closing their deal.