Stocks: The Likelihood of Yet Another Spring Slide
by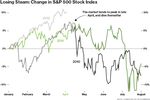 The stock market has just had its best first quarter since 1998. This is now the third year in a row that stocks have started off on a tear, with the Standard & Poor's index of 500 stocks gaining 12 percent so far. In 2010, the S&P 500 added 4.8 percent through March; in 2011, it rose 5.4 percent in the first quarter. In both years, by the end of April, the market had started to lose steam. The question is: Are we in for another spring swoon?
Jeffrey Kleintop, chief market strategist for LPL Financial, thinks the answer is yes, although he doesn't believe it will fall as hard as it did in the last two years. In his March 26 weekly market commentary (PDF), Kleintop writes: "On April 23, 2010 and April 29, 2011, the S&P 500 made peaks that were followed by 16-19% losses that were not recouped for more than five months."
In a phone interview, Kleintop said that he thinks the S&P will decline by 5 percent to 10 percent from the end of April through the middle or the end of summer 2012. In his market commentary, Kleintop lays out 10 indicators that have driven the spring sell-off during the previous two years, such as the end of Fed stimulus programs, lower corporate earnings, and higher oil prices. Half of his 10 indicators currently point to a similar slide, while the other half do not.
"Over the next few months, I see those remaining five indicators deteriorating," says Kleintop. Among them, he thinks fears over a slowing Chinese economy will drag corporate earnings down, particularly in the technology and industrial sectors. That, in turn, could weigh on consumer confidence and hurt spending.
Then, too, a huge fiscal wall looms on the horizon. As Bloomberg Businessweek economics editor Peter Coy points out, a deadly combo of mandatory spending cuts and expiring tax breaks will automatically take effect in January 2013 if Congress does not act. Which basically puts us back to where we were last summer.
"Lots of those headwinds that have been an issue over the last two years haven't gone away," says Tom Porcelli, chief U.S. economist at RBC Capital Markets. In the short term, Porcelli thinks that stocks might still have room to bolster their gains but considers an eventual pullback all but inevitable. "Equities could hold in there, but that's only until attention turns to the potential mess of 2013," he said. "That will be the catalyst for a potential pullback."
Overall, both Porcelli and Kleintop believe the fundamental economy is on stronger ground than during the last two years. Continued job growth, a healing Europe, and an eventual rebound in the housing market could make this year's spring sell-off less steep, particularly if the Federal Reserve pulls off a third round of quantitative easing, known as QE3, which Kleintop considers likely.
Here is Kleintop's thinking on why a spring swoon won't be too severe: "First, central banks are now cutting rather than hiking rates, which should help to temper global recession fears evident during the past two years' spring slides. Second, housing is showing signs of improvement as both new and existing home sales are rising at about a 10 percent pace. Third, while energy prices are up this year (same as last year) food prices are decelerating, which helps to explain why consumer sentiment is going up in the face of higher gasoline prices. Finally, auto production schedules are robust for the next quarter and likely to support manufacturing activity, which had fallen in May through July of the past two years and contributed to the market decline."
(Hat tip to Barry Ritholtz)
Before it's here, it's on the Bloomberg Terminal.
LEARN MORE