Q&A: One Attorney's Bizarrely Literary Motion Against BP
By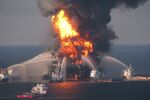 "Buddy Trahan needs a ride."  That's not the first line of a book. It's a legal document. Texas lawyer Lance Lubel wrote it when he filed a motion on behalf of his client, an asset manager for Transocean who was gravely injured when the company's Deepwater Horizon oil rig exploded in the Gulf of Mexico on April 20, 2010. That's just the beginning. The document gets weirder.
The motion reads like a folk tale. That is, if folk tales can be about mundane court procedures. "Buddy Trahan's Metaphorical Request For a Ride on the Streetcar Named Remand," as the document is titled, asks a federal court in New Orleans to have Trahan's case remanded back to Texas state court. It includes quotes by Bob Dylan and a reference to Walker Percy's novel, The Moviegoer. It likens Trahan's situation to Franz Kafka's The Trial and even goes as far as to suggest that "[Kafka's character] Joseph K. and Buddy Trahan inhabit parallel opposite universes."
According to Lubel's motion, when Deepwater Horizon exploded, Trahan was "badly burned and impaled through the neck on a hinge from a steel door." It says he suffered 12 broken bones, eight deep lacerations, a crushed knee, a head injury, and burns over 25 percent of his body—along with the "fist-sized hole in his neck" left by the hinge. He is still trying to get his suit against BP and Halliburton heard in court.
Lubel's method may be unusual, but he isn't the first person to use literary license in a court document. The Beatles, the Rolling Stones, and the Grateful Dead have all been cited many times before. Bob Dylan has likely been quoted the most; in 2011, a University of Tennessee law professor told NPR he'd counted as many as 168 references to Dylan's works in court documents and legal filings. (Even Supreme Court Justice Antonin Scalia and Chief Justice John Roberts have reportedly used the folk singer's wisdom).
Bloomberg Businessweek caught up with Lubel to ask him about the literary legal document, how it came about, and if it has had any effect on the case.
Why did you write a motion this way?
Stand in the judge's shoes. He sees so many hyper-technical motions that all look the same. We felt like we needed to draft something that was totally outside the box, not only to get the attention of the law clerks—the people who read all the documents and who draft preliminary opinions for the judge—but for the judge himself. And frankly, we needed to get the press' attention because we really are stunned that the people who were physically injured—like Buddy—or died from this cannot get the court's attention.
Why did you include Bob Dylan and Kafka quotes?
Everything's written in really formal, technical language in a lawsuit. We'd already filed normal motions with the court and couldn't get anyone's attention. We felt that, in the spirit of Mardi Gras, we had to do something outside the box. That's the only chance we had.
Did it work?
Well, you and I never spoke before this.
I didn't even know until now that you could write a legal document this way and have it still be legal. Why aren't more documents this interesting?
Hmm. That's a good question. I don't actually know. Maybe because it takes a lot more time to create something like this. Typically, a motion like this takes two days to write. This one took two weeks. And it's only five pages. Imagine if we tried to write a 30-page motion as literary as this. A lot of people don't have the time.
Did you write it yourself?
No, I had a lot of help. It ain't proper for me to take credit for this. There was an appellate lawyer who took the lead on the drafts and my partner, McKenna Harper, helped a lot too.
Did it work? Did the court grant your request?
We've not seen a ruling on it. There hasn't been one to our knowledge.
We're coming up on two years since the explosion and the courts have ruled on thousands of motions related to it. Yet the people who suffered the most—for which money can't possibly put them back into the position they were before the explosion—their cases are being delayed. I've been told: "Don't get your hopes up" and that he's not going to rule.
Before it's here, it's on the Bloomberg Terminal.
LEARN MORE