business
Matching Education to Jobs
William D. Green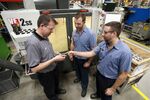 Educational achievement in America, once the envy of the world, has slipped steadily over the past couple of decades. At the same time, U.S. businesses increasingly suffer from a shortage of skilled workers in many technical and specialist fields, even as overall unemployment remains distressingly high.
For all these problems, there is a practical solution at hand: high school and postsecondary programs that are explicitly linked to career paths and skills relevant to the workplace. But this requires dispelling, or at least toning down, the gospel of "four-year college for all" and reallocating resources to strengthen community colleges and employer-sponsored apprenticeships. The health of the U.S. economy depends as much on voc-tech (vocational-technical education) as on Caltech.
I should know. I'm the proud son of a plumber, and was accepted to the plumber's union and a two-year college on the same day. While the first route would have led to a worthy trade and a good living, I happened to choose the second. At Dean College in Franklin, Mass., professors showed me how to find my talents and develop skills valued by employers.
Without major changes in our education system, the situation will only get worse. The vast majority of jobs now require more technical grounding, problem solving, creativity, and better communication skills. But most young people don't know what businesses expect and colleges don't necessarily teach them these skills.
While Americans are waking up to the idea that we need to sharpen our competitive edge, many still overlook our system of community colleges. Most jobs created over the next decade or so will not require a bachelor's degree; 14 million job openings through 2018 will go to people with an associate's degree or occupational certificate, according to a 2010 forecast by the Center on Education and the Workforce at Georgetown University.
Many of these will be occupations such as electrician, construction manager, registered nurse, or police officer. These jobs pay as much or more than many jobs held by people with a bachelor's degree.
Instead of "college for all," let's rally around "post-high school credentials for all" that demonstrate mastery of the skills employers demand. We need to develop robust pathways to community college, vocational schools, and other alternatives that lead directly to the workplace.
One group making headway in this area is Skills for America's Future, an initiative of the Aspen Institute (which I am proud to be a part of) that advocates for more public-private partnerships between businesses and community colleges. At Accenture, for example, we're working with the City Colleges of Chicago, one of the country's largest community college systems, to provide students a series of job readiness workshops that teach them such skills as résumé writing, interviewing techniques, professional dress, and networking basics.
We can't simply scale up high school voc-tech and community colleges as they currently function. They are too variable in quality. Instead, we should emulate the best programs around the country—those closely connected to regional labor market demands and reliant on cooperative education, which provides students with extensive work experience monitored by the school.
To be competitive in a global economy, we as a country must ensure our students meet certain core academic standards that allow them to excel. Every state should adopt these common standards. It's time to move forward in making the reforms. We must make the changes needed so every young American can graduate from high school with the skill and knowledge set they need for success.
Employer organizations also have to step up and help set standards and design programs of study, provide paid apprenticeships, advise young people, and participate in assessing student performance. This would address the damaging disconnect in our current education system and give American employers a more reliable supply of workers with the skills they desperately seek.
The few programs that have emerged over the past couple of decades demonstrate that it can happen here and produce enormous payoffs. For example, U.S. FIRST, co-founded in 1989 by the inventor Dean Kamen, exposes tens of thousands of students every year to the excitement of engineering through events such as a robotics competition. Those students go on to pursue apprenticeships, college study, and engineering or science careers at much higher rates than other students with comparable backgrounds.
All this will require a significant cultural change and funding. But I'm convinced that emphasizing work-linked learning, where the curriculum closely tracks the demands of the labor market, will help us to raise graduation rates as well as skill levels of new graduates. Surely that's a key ingredient in the recipe for economic prosperity.
Before it's here, it's on the Bloomberg Terminal.
LEARN MORE