Louisville Basketball Wins! (The Money Game)
by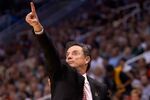 Rick Pitino's Louisville Cardinals face a juggernaut tomorrow in their blood feud with John Calipari's Kentucky Wildcats. Since the NBA mandated a minimum age of 19 for players in 2006, no coach has been more successful, or unapologetic, in turning his program into a one-year finishing school for NBA talent than Calipari. "I couldn't tell [Bill] Gates, 'Do you know what you did to the integrity of your school by coming out and starting Microsoft?'" he told USA Today in March. With six players on the roster who could be picked in the first round of the draft this summer, the Wildcats are 9-point favorites in Saturday's Final Four semifinal game with Louisville.
But when it comes to raking in the bucks, Louisville has already topped Kentucky—and every other NCAA program in the country. According to Sports Business Journal, Louisville basketball took in $40.9 million last season, besting second-place Duke by $12 million. How does Louisville beat name-brand Duke so handily? It's all about fried chicken, luxury boxes, and beer.
In 2010, the Cardinals began playing their home games in the KFC Yum! Center, a $238 million, 22,000-seat arena in downtown Louisville, for which Goldman Sachs arranged financing. Yum is plunking down $13.5 million over 10 years for the naming rights. And everyone from bourbon distillers to stockyards to bakers are paying to put their name on a piece of the building. Duke plays at Cameron Indoor Stadium, named for late legendary coach Eddie Cameron. He paid nothing for the privilege.
The Yum! Center has 72 luxury suites, for which it charges 80,000 to 92,000 a year. That's about $6 million a year total. Cameron Indoor has no luxury suites.
Louisville also sells beer at its home games. Duke and most other schools do not. According to numbers provided by Louisville to the blog Business of College Sports, concessions at basketball games brought in $922,000 in 2010-11, with the school taking a 50 percent cut. That's a small piece of the $24.8 million the Courier-Journal reports the arena brought in for the team, but Coach Pitino credits booze for the school's financial success. "We made $40 million last year," he told student newspaper the Louisville Cardinal, "and I don't want to say it's because of alcohol. Nobody sells alcohol but us, but that's the reason. We don't like to brag on that, but we are the thirstiest city in America." Cue John Wooden spinning in his grave.
Before it's here, it's on the Bloomberg Terminal.
LEARN MORE