From Around the World, Your Fake News
By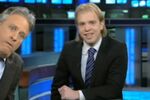 This week, Bloomberg Businessweek profiles Bassem Youssef, the surgeon-turned-comedian taking potshots at Egypt's new establishment with his weekly program modeled after The Daily Show With Jon Stewart. Below are examples of other fake news shows—from Italy to South Africa—that have kept the political elite on their toes and tested the limits of free expression.
Italy
Former Prime Minister and media baron Silvio Berlusconi is famously fond of young Moroccan dancing girls, hair implants, and televised jokes—so long as he's not the butt of them. Italian comedienne Sabina Guzzanti mimicked Berlusconi sensationally in her 2003 satirical broadcast RaiOt.
Shortly after the first episode had aired—watched by a record Italian late-night television audience of 2 million—a defamation suit from Berlusconi's Mediaset TV network forced state broadcaster Rai to pull the show. Guzzanti may not have been all that shocked; made up as the perma-tanned premier for the show's trailer, she demanded of viewers, "Who told you I will allow this program to be shown?" Guzzanti still is to Berlusconi what Saturday Night Live's Tina Fey is to Sarah Palin—only in drag.
South Africa
Loyiso Gola is the energetic host of Late Nite News, a weekly favorite on South Africa's eTV that is about to start its fourth season. Popular stand-up comedian Gola delivers his scathing take on the latest news, conducts confrontational guest interviews, and ends each episode with an on-screen graph charting the week's ups and downs, known as the "Morale Index."
With its cast of regular "correspondents," Daily Show-style, Late Nite News is slowly forcing South African pols to accept some gentle public ribbing in a country long known for its violent politics. But it's reasonable to imagine that one regular target of Gola's acerbic ridicule, "president for life" Robert Mugabe just over the border in Zimbabwe, fails to see the funny side.
Netherlands
It's often said of the Dutch that unlike, say, the Germans, they have a good sense of humor; that they "get" Anglo-Saxon wit. This might explain why Comedy Central chose the Low Countries to launch its first international franchise. The Daily Show Nederlandse Editie began in early 2011, hosted by comedian Jan Jaap van der Wal. He had cut his teeth on another topical comedy show, itself modeled on the long-running BBC hit Have I Got News for You.
For the first Dutch episode, Stewart himself appeared as a guest from his New York set and promised a visit to the new Amsterdam studio at a later date. Van der Wal was outshone by Stewart on that first outing, and his show has garnered primarily negative reviews ever since.
Hong Kong
Although China is hardly known for its media freedoms, the autonomous territory of Hong Kong has been a slightly special case since the end of British rule in 1997. But popular satire show Headliner, which airs on local state-owned RTHK, has tested the censors' patience more than once.
Its skits are sarcastic and farcical in equal measure, and prompted one particularly high-profile confrontation in 2001. The show's writers had used the Taliban to satirize a policy address by Tung Chee-hwa, the island's first governor following the return to mainland rule. His spokesperson responded by urging RTHK to follow "the principles of 'impartiality,' 'accuracy,' 'taste and decency.'" Ten years later mainland Chinese authorities have just one label for Headliner: "weird."
Before it's here, it's on the Bloomberg Terminal.
LEARN MORE