France's Presidential Hopefuls Look More and More Extreme
In France, candidates appeal to fear of Muslims, resentment of the wealthy
By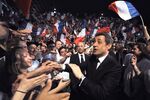 As France approaches its first round of presidential voting on April 22, Nicolas Sarkozy and his Socialist challenger François Hollande are pedaling vigorously away from the political center.
Sarkozy, campaigning for a second five-year term, has stepped up anti-immigrant rhetoric and launched a security crackdown that included the arrest, on March 30, of 19 people whom he described as having links to "radical Islam." Hollande, long seen as a market-friendly moderate, has called for nearly doubling the top income tax rate on the country's wealthiest families to 75 percent, while his recent speeches invoke the memory of François Mitterrand, the former Socialist President who nationalized banks and industries in the 1980s.
Polls show Sarkozy and Hollande running neck-and-neck for first place, well ahead of other candidates in the April 22 vote, which means both are likely to advance to a May 6 runoff. As in the U.S., it's common for French candidates to start their campaigns with relatively hard-line positions, which they soften to broaden their appeal in the weeks before the final vote.
But this year both Sarkozy and Hollande are pushing unusually hard toward the extremes. Sarkozy has sought to burnish his law-and-order credentials after the killings of seven people in the Toulouse area this month by self-described jihadist Mohammad Merah, a French citizen of Algerian ancestry. After Merah died in a shootout with police, Sarkozy said he would bar radical clerics from entering France and make it a criminal offense to visit the Internet sites of groups advocating terrorism. "We can consider those who frequent sites that apologize for terrorism to be terrorists," Sarkozy said.
Sarkozy's tough response may have slightly boosted his standing in the polls: A March 26-27 survey by the TNS-Sofres survey group showed his first-round support rose to 29 percent, up 3 points from March 12, while Hollande fell two points, to 28 percent. But he seems to have blunted the appeal of extreme right National Front candidate Marine Le Pen. A poll released on April 1 by survey group LH2 for Yahoo showed her support at 13.5 percent, well below the 17 percent to 18 percent she was drawing earlier in the year.
Hollande is feeling pressure on his left from Jean-Luc Melenchon, a fiery anti-capitalist whose support has roughly doubled since the beginning of the year, to 15 percent in the LH2-Yahoo poll. "He is pugnacious. He has captured an electorate that is discontented with politics," says Emmanuel Rivière, a TNS-Sofres polling analyst. Melenchon's street appeal, along with Sarkozy's high-profile role in the Toulouse crisis, has left Hollande's campaign struggling to regain momentum in recent days.
Still, Hollande has the advantage in the May 6 runoff, with recent polls giving him a lead of 6 to 10 points over Sarkozy. Melenchon's voters are "overwhelmingly anti-Sarkozy" and will throw their support behind Hollande in the second round, Rivière says. By contrast, supporters of Le Pen and François Bayrou of the centrist MoDem party are far less enthusiastic about Sarkozy. In the TNS-Sofres poll, 47 percent of Bayrou voters said they would support Hollande in the runoff while only 33 percent would vote for Sarkozy. While 80 percent of Le Pen voters said they would switch to Sarkozy, 20 percent said they would vote for Hollande in the second round.
Other polls, though, show Sarkozy drawing as much as 60 percent support among current Bayrou voters. "The risk for Hollande is to pull too much on the left to secure the Melenchon vote and lose the confidence of centrist voters," says Gael Sliman, head of polling group BVA.
— With assistance by Helene Fouquet
Before it's here, it's on the Bloomberg Terminal.
LEARN MORE