Social Networking For Your Bucket List
by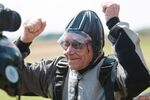 A deals site for those with an overdeveloped sense of mortality? Possibly, but the team behind a new social network, My-bucketlist.net, which launches on March 30, say their goal is to connect people to check off shared goals together—while offering group discounts.
Users sign up on the site or through Facebook, add items to their lists, and connect with friends and other people on the site who share the same goals. Users decide whom to invite and accept into their group. For popular goals such as skydiving, visiting the Eiffel Tower, or swimming with dolphins, My-bucketlist contacts vendors to offer services at a discounted rate. The most popular items are travel or adventure based, co-founder Andrew Jorgensen says. For niche goals—say, traveling to the South Pole—vendors send targeted offers. Vendors might also sell dance lessons or language classes or software.
The network is the newest service developed by Remembered.com, a three-person company co-founded in 2009 by Jorgensen, now 46, and developer Adolfo Espadas, 34. When he started the company, Jorgensen had just recovered from swine flu. "This kind of makes you think about your life and what you're doing," he says. That's when Jorgensen started thinking about the death-care business. The Salt Lake City-based company launched Remembered.com in September 2010 as a place for users to create online memorials for $10 to $20. Freefuneralnotice.com allows people to send out announcements via e-mail or Facebook. Also in development are My Final Message, which sends pre-recorded video messages to friends and family in the event of one's passing, and Account Vault, which designates a recipient for a dead user's IDs and passwords.
Not exactly cheery stuff. "A lot of the business we were doing were more on the death-care side of things," Jorgensen says. "It's not exactly the most uplifting. Sometimes it can be very positive, but sometimes it can be on the emotional side."
Hence My-bucketlist, a cheerier turn for the field of death care. The idea stemmed from the pair's frustration with daily deal sites, which spam subscribers with offers that don't interest them. They wanted to achieve simultaneous aims: stay in the death-care business, which is profitable for Remembered.com, while offering deals targeted at people's life goals. The company sells ads and collects a commission on sales generated by the site.
In beta, My-bucketlist has signed up about 1,000 users, most of them 30 and younger. Jorgensen expects they will be the site's main user demographic because they grew up using Facebook and Twitter. "They're not people who have a high preoccupation with dying," he concedes. "They're people who have their life ahead of them, and they are making their list of things they want to do."
Before it's here, it's on the Bloomberg Terminal.
LEARN MORE