pursuits
Q&A: Founder of 'Sh-tter,' the Tweets-to-Toilet Paper Company
By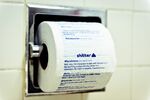 This week an Australian tech "entertainment" company called Collector's Edition announced the launch of its newest venture, a startup named "Sh-tter." Sh-tter specializes in the printing of Twitter feeds—either your own or any others of your choice—onto rolls of toilet paper, which are then shipped out to customers. (For $35, along with shipping and handling, one can purchase a pack of four rolls.) Bloomberg Businessweek caught up with Collector's Edition co-founder David Gillespie—the man behind Sh-tter—to discuss their most popular orders, the quality of the toilet paper, and Twitter's reaction.
So how did Sh-tter come about?
I remember sitting at my desk one day and the idea just kind of popped into my head. So I walked over to Matt [Delprado], our designer and partner. I said, "Twitter on toilet paper—let's called it 'Sh-tter.'" I went back to my desk and sat down, and we both had a laugh. I put it out of my mind. We found ourselves coming back to it a couple of days later, and we said, "You know, this could be a really fun thing to do." And that was a year ago.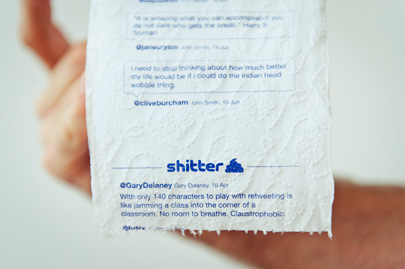 What was the most difficult part of getting it off the ground?
The hardest part was actually finding someone who could do the printing at a price that wasn't exorbitant. It was a long process of talking to people in India and China and Hong Kong. We eventually found someone in Illinois who could do it. So while this a venture by a group of immigrants and foreigners, it's 100 percent American made.
How's the quality of the toilet paper?
It's good. It's the same kind of thing you'd buy in a store.
Is it quilted?
It's got a nice texture to it. It's good quality. It's not like we were the first people to print anything on toilet paper. It's all very safe, shall we say, for consumption.
How has it been received?
We thought people would talk about it. We shared it with our friends, and they all had a laugh. The best part is that Twitter themselves, first from London, have gotten in touch. They said they loved it. We were waiting to see when San Francisco would wake up to see if they had a laugh, as well—or if the lawyers would be onto us. But they found it just as funny. We're going to get some rolls to send over and say thanks.
So how does it work—is it your Twitter feed printed, or the people you subscribe to?
You can choose. You can do your own, or you can choose another account or a list that you created.
So we don't have to surrender password information or anything like that?
No, not at all. It all happens through Twitter. It's all secure. We only get an e-mail address and some shipping details with orders.
What's the most popular Twitter account to date that's been printed on toilet paper?
I don't actually know. For the most part it's been friends having jokes with each other. Or companies that just want to see their own Tweets and find it funny. Our first order was a company called Magnolia, a social media consultancy in London. They got their own Tweets printed. There's such a novelty factor to it all. My hope is that rivalries will form and people will send each other their own Tweets.
Are you guys going to branch out into other bathroom-themed items?
Well, there are a few things we'd like to do to the product. The thing we'd like to do more than anything is get the cost down.
Are you making money?
I can assure you that there is no money to be made in custom-printed toilet paper. It's an expensive endeavor. This is a nice kind of PR thing for the broader company we work on, called Collector's Edition. No one is getting rich by this—by a long shot. Sh-tter is one of series of projects that we're working on. We want to do things that make people smile, and we hope to monetize it along the way.
Before it's here, it's on the Bloomberg Terminal.
LEARN MORE