Pet Lovers Put Up Money Against Mitt
By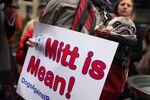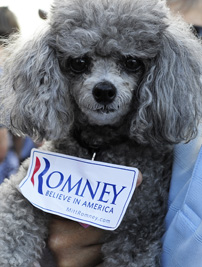 With Marco Rubio, Jeb Bush, and now George H.W. Bush lining up behind him, Mitt Romney is finally picking up the GOP front-runner endorsements he'd surely hoped for months ago. Now if only his Democratic opponents would stop bringing up the famous family road trip with the dog riding on the roof of the Romneys' car.
That's looking unlikely now that a group of progressive pet lovers has launched Mitt is Mean—The Animal Lovers Against Romney Super PAC.
According to Politico, the founder of the new super PAC is a longtime Democratic operative, Bob McDevitt, the proud owner of a rescue dog. McDevitt was inspired by the now well-known story of the 1983 family vacation to Canada during which Romney strapped his Irish setter, Seamus, to the roof of his car for 12 hours. The incident ended badly (Seamus pooped in his kennel atop the vehicle). Since the story was first told in 2007, Romney has said Seamus enjoyed the trip. "Will Romney treat you like a dog if he's president?" the Mitt is Mean website asks. "Let's hope not."
The group says it wants "to make the case against the coldblooded and calculating corporate CEO" and that it will run a targeted online video campaign during the coming weeks in 10 battleground states. A search of the Federal Elections Commission database reveals that Mitt is Mean hasn't spent any money on political ad buys—yet. McDevitt told Politico he has already raised $1 million for Mitt is Mean ads.
Before it's here, it's on the Bloomberg Terminal.
LEARN MORE