A Fashion Revival Made in England
A new generation of designers is doing what many thought impossible: Selling British men on fashion. Can they resuscitate the country's clothes-making tradition in the process?
Aditya Chakrabortty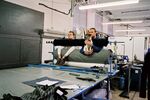 Fashion designers generally fit one of two stereotypes. There's the monosyllabic minimalist, inhaling unfiltered cigarettes and indie rock; or the couturier, resplendent in fuschia-pink, fond of crêpe de Chine and comically small dogs.