Will You Marry Me (After I Pay Off My Student Loans)?
By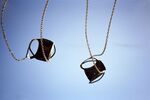 Could crushing student loan debt be a bigger-than-expected culprit behind recent trends showing that young adults are waiting longer than ever to get married and have children?
A new report (not yet online) by economic forecasting firm IHS Global Insight points out that while other forms of debt have been going down since 2007, student loan debt has been growing, both in terms of the number of borrowers and the size of the loans. At the same time, the number of young Americans delaying marriage and starting a family has accelerated.
In 2007, the median age of a first marriage for males was 27.5 years old, and for females, 25.6 years old, according to IHS. By 2011 it crept up to 28.7 and 26.5, respectively. Fertility rates, defined as births per 1,000 women aged 15-44, decreased significantly from 69.3 in 2007 to just below 65 last year. (The marriage trend began earlier in the decade. Fertility rates, on the other hand, were going up until the recession hit.)
While credit-card, auto loan, and mortgage debt have all been falling since 2007, student loan debt has been rising—and faster than expected. Last week the Consumer Financial Protection Bureau announced that student loan debt surpassed the $1 trillion mark in the fourth quarter of 2011. That estimate is greater than earlier ones, including the New York Fed's $867 billion projection.
Students borrowed $117 billion in federal money last year, the CFPB said. The average debt is $12,800, but the top 1 percent of borrowers owe more than $150,000. Forty percent of student loan borrowers are under 30 years old, and 67 percent are younger than 40. "Student loans are concentrated among young people—a particular group that may be prone to buy a new house, a new car, and get married," says Chris Christopher, senior economist at IHS Global Insight. "They are not spread out among all age cohorts in the economy."
The lack of job prospects for young Americans isn't dulling the pain. This age group has been hit harder by the downturn than others. That has caused many more young adults to enroll in school, thus saddling themselves with even greater student loan burdens, IHS says.
The Obama administration is trying to ease the pain. Late last year the president issued an executive order mandating that outstanding student debt be forgiven after 20 years, down from 25 years, and that student debt payments not exceed 10 percent of a graduate's income, a drop from 15 percent. What impact will the changes have? At least one analysis has found that they'll save grads less than $10 a month. Definitely not enough to work on those wedding plans.
Before it's here, it's on the Bloomberg Terminal.
LEARN MORE