Tour Company Promotes Elvis-Themed Trip to Israel in 2013
By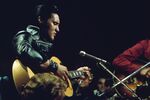 Fans of Elvis and fans of Israel have finally come to an intersection.
Israel Theme Tours starts selling tickets for the Elvis Presley Holy Land Tour—a $3,995 trip to Israel for 100 people—starting March 28. The group will be accompanied by three gospel-music artists who worked with the King: Elvis' Imperials members Joe Moscheo and Terry Blackwood, and former J.D. Sumner and the Stamps member Bill Baize.
A few clarifications: Presley never toured Israel; in fact, except for three dates in Canada, he didn't tour outside the U.S., says Scott Williams, a spokesperson for Elvis Presley Enterprises, Presley's estate. And gospel music does not come from Israel.
The tie? "Elvis fans, a good majority of them, are church people, so it's a good fit," says Brian Mayes, co-founder of Israel Theme Tours and an entertainment publicist. "A large portion of fans are evangelical: Christian, Catholic, Jewish. The Holy Land is an interesting destination for them."
Spring Hill (Tenn.)-based Israel Theme Tours creates and promotes celebrity-led trips to Israel. Other tours have featured such celebrities as Howie D from the Backstreet Boys and Christian singers Jaci Velasquez and Nic Gonzales. The celebrities tour with their families as compensation, but are not paid, says Mayes, a Christian. This is the first trip the company has organized around a celebrity who isn't alive.
It contracted Israel tourism company International Heritage Tours to handle the trip arrangements, and licensed with Elvis Presley Enterprises to promote the themed trip, which is scheduled for May 12-21, 2013. Joe Amaral, an Israel expert and co-founder of Israel Theme Tours, will also accompany the group.
The trip has drawn much attention since it was announced on March 26, receiving 810 shares, 6,483 likes, and 355 comments on Elvis Presley's Facebook page by the next day. The Elvis legacy is strong—the estate earned a total of $55 million in the year ended October 2011, reported Forbes—and Mayes expects die-hard Elvis fans will fill the 100 spots.
This is not the first company to organize an Elvis-themed trip—there are also cruises to the Bahamas. While this trip focuses on Israel rather than the King, Mayes says it's another opportunity for Elvis fans, who enjoy traveling together, to go to a destination they otherwise might not have visited.
Fans "don't like cheesy Elvis stuff. There's a large percentage that can't stand impersonators," he adds. So don't expect tributes or sideburns. There might be an impersonator at the Elvis Inn, a restaurant in Abu Ghosh where the group will have a meal, "but it's not a cheesy tour."