The Dodgers Will Need Some Magic
By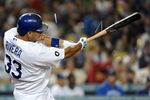 Happy Wednesday, Los Angeles. Frank McCourt, the outgoing owner of your Dodgers, just pulled the fastest one on Hollywood since the screenplay for Ishtar Gigli John Carter.
Last night, news broke that Lakers Hall-of-Famer and L.A. hero Earvin "Magic" Johnson and a group of fellow investors are shelling out $2.15 billion for the bankrupt Dodgers, a record price for an American professional sports team. "I am thrilled to be part of the historic Dodger franchise and intend to build on the fantastic foundation laid by Frank McCourt as we drive the Dodgers back to the front page of the sports section in our wonderful community of Los Angeles," Johnson said in an e-mailed statement from the team.
Last month, when I filed this story, the reach whisper number was $1.6 billion to $1.7 billion.
In 2004, Frank and Jamie McCourt, parvenu parking lot owners from Boston who were rebuffed in their efforts to buy the Red Sox and Angels, bought the Dodgers from News Corp. for something in the vicinity of $430 million—a ton of it with borrowed money. The McCourts proceeded to extract at least $100 million from the team to fund such essential capital expenditures as mansions and private jets, as well as the services of a $120,000-a-year hairstylist.
Things soured quickly when the couple divorced, and the team last year filed for bankruptcy. McCourt owes his estranged ex-wife $130 million. Amazingly, the Dodgers still managed to field the league's top pitcher, Clayton Kershaw, as well as triple-crown contender Matt Kemp. And despite plunging attendance—fans were in open mutiny last season as the sordid details of the divorce and bankruptcy sluiced out—every media conglomerate swarmed around to secure multidecade, multibillion-dollar TV rights to the team.
All of which enabled McCourt to flip the Dodgers for multiples of what he paid for it in 2004. (His attorney claimed he actually paid way, way less.) McCourt may collect more than $1 billion from the transaction after paying off all the Dodgers creditors and his ex-wife. And the parking lot owner from Boston will still get to be part owner of the Dodgers' valuable Chavez Ravine campus, which is ripe for residential and commercial development, and could even host the stadium for L.A.'s upcoming NFL franchise. Before the sale, Forbes magazine had appraised the Dodgers, their stadium, and parking lots at $1.4 billion, second in pro baseball only to the New York Yankees. With the deal, the magazine declared McCourt's the best return on investment of any pro baseball owner in history.
On to Magic Johnson and his team of investors. Fans should be both elated to have such a local sports hero as the new ownership face of the Dodgers—and frightened at the record price tag. Yes, Magic's deep-money backer is Mark Walter, chief executive of Guggenheim Partners, an investment shop that manages $125 billion in assets. But ROI hurdles do not much care about the feel-good nature of this story.
Will Magic & Co. offload some of their price-tag risk and build more Angeleno goodwill by selling a stake to fans, ie, the Stanley Stalford Solution? Will management beef up stadium security after last year's savage opening-day beating of a Giants fan? On the subject of beef, will the new owners upgrade the Stadium's once-legendary Dodger Dogs?
All of this will cost money. More money–$2.15 billion of which has already been committed to merely buying out Frank McCourt.
Meantime, hand it to Magic Johnson: he's quite the businessman. Movie megaplexes. Starbucks franchises. A former minority stake in the Lakers. No. 32 even owns the worth-its-weight-in-gold "Soul Train" library. Still, for all his local goodwill–and Magic has tons of it–LA will ultimately measure Johnson, the new, smiling face of the Dodgers, on his ability to resurrect this high–last felt in 1988.
Before it's here, it's on the Bloomberg Terminal.
LEARN MORE