Sony Invents the 'Trailer Trailer' for 'Total Recall'
John Lopez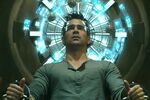 The movie business may be in trouble, at least according to Nomura Securities, which sees continued declines in theater attendance despite a blockbuster 2012, but the trailer business is booming. To paraphrase Norma Desmond, maybe the pictures really are getting small, or maybe their trailers are just getting big. Now trailers even have their own trailers. Sony Pictures has launched its marketing campaign for this summer's Total Recall remake with a twist: Apple's movie trailer page is featuring a 30-second promo touting the premiere of the film's trailer during the second quarter of Sunday's Miami Heat-Boston Celtics game. Basically, Sony just created the world's first trailer trailer. It may seem rather mind-bending to contemplate but it's all part of the event-ification of trailers that I chronicled last fall. While more and more movies get relegated to the ol' Netflix queue, now good trailers apparently make for must-see TV.
Sony's clearly confident that its Total Recall trailer has the goods (and Los Angeles Times columnist Patrick Goldstein seems to agree). Normally, trailers drop online and pick up buzz from the plethora of fan and entertainment news sites that quickly repost them. But why does it have to be that way? As Sony Pictures' President of Worldwide Marketing Marc Weinstock put it to me on the phone today, instead of a trailer just appearing out of the fog, why not tell people it's coming? (Fox took a similar approach earlier this month, premiering the full trailer of Prometheus, Ridley Scott's highly anticipated kind-of-sort-of prequel to Alien, at WonderCon complete with the full cast and filmmaker Q&A treatment.) Weinstock and Sony would appear to be right: The trailer trailer has already proved a success. According to Weinstock, within about 45 minutes of the launch on Apple's site, Total Recall had become the No. 5 trending topic on Twitter, with some fans saying they were going to set their DVRs for the event. "You want to drive as many people as you can to see the trailer of your movie and to make an event out of it," Weinstock said. "It's the most influential piece of marketing you can do."
Before it's here, it's on the Bloomberg Terminal.
LEARN MORE