Sharp Investment Makes Sense If Apple TV Is Coming
by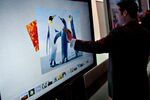 A big move into display manufacturing by Apple's top supplier could be an indication of Tim Cook's plans to branch out into the TV business. Taiwan's Hon Hai Group (2317:TT)—which includes the Foxconn companies that make iPads and iPhones for Apple— and its founder Terry Gou agreed on March 27 to invest 133 billion yen ($1.6 billion) in Sharp, the Japanese company that is a major producer of thin film transistor liquid crystal displays.
Sharp (6753:JP) might seem an unlikely target for Gou. Just last month, Sharp announced it expects to lose 290 billion ($3.49 billion) this fiscal year, as the company suffers from the strong yen and a misguided investment in a huge cutting-edge LCD plant that cost 430 billion yen. The factory, built in 2009 in Sakai, Japan, makes displays suitable for TVs bigger than 55 inches. With consumers shunning sets that large, Sharp's plant is operating at just 50 percent of capacity, says Alberto Moel, a senior research analyst in Hong Kong with Sanford C. Bernstein & Co. "It's a massive hole in the ground," he says of the factory. "It's too large and it makes too many panels that nobody wants to buy."
Why invest in a company that is struggling so badly? That's where Apple and its TV plans come in. The LCD plant may be an albatross for Sharp, but it can generate strong cash flow. And by taking 46.5 percent of Sharp Display Products, which owns the LCD fab, the Taiwanese are now getting prime display capacity on the cheap. "Maybe Gou is betting on 60-inch TVs seeing a renaissance," says Moel. "Or maybe on the yen depreciating. Or maybe on Apple TV."
Others agree that the investment shows the Taiwanese billionaire is preparing for a shakeup in the TV business. The Sharp plant "is the most efficient plant at making 60-inch TV screens and as such, it could be the future of smart television," Pelham Smithers, managing director and co-founder of London-based Pelham Smithers Associates, told Bloomberg TV on Wednesday.
Even though the electronics industry has been abuzz with speculation that Apple will jump into TVs, nobody outside the company can say for sure what Cook and his executives have in mind. But in a report published after the announcement of the deal, Daiwa Capital Markets tech-team analysts predicted that the Sharp-Hon Hai alliance bodes well for a new TV from Cupertino. "We expect Apple to debut the iTV by the end of this year, and it is likely to adopt Sharp's 10th generation TFT production line to product TFT LCDs for iTVs," they wrote. "We believe Hon Hai will have better vertical integration for the Apple iTV following its stake acquisition in Sharp's plant in Sakai."
Finally, there's another reason to believe an Apple TV is in the works. Hon Hai relied on Apple for 38 percent of its revenue last year, a number that will likely go up to 50 percent this year, according to Nomura Securities. So, as Smithers told Bloomberg TV, "if anybody knows what Apple is going to be up to in the future, it's Hon Hai."
Before it's here, it's on the Bloomberg Terminal.
LEARN MORE