Getting a Grip on Medicine's Slippery Price Tag
by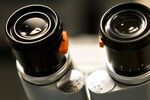 How much should a diabetes screening cost? Does 50 bucks sound about right? How about $400?
Doctors in the same health insurance network charge vastly different prices for common preventive tests, according to a report to be published today by Change Healthcare, a company that helps employers and health-plan providers understand the cost of their members' medical care.
Change Healthcare analyzed a year's worth of medical claims for a large employer in the Southeast with about 15,000 members in its health plan. It looked at how much doctors charged for five preventive screenings that health plans must now cover under the Affordable Care Act: tests for diabetes and cholesterol, mammograms, Pap smears, and colonoscopies.
Fees for the same service for employees on the same health plan varied widely: The least expensive Type 2 diabetes screen was $51, while the most expensive was $437. The median price was $116. Pap smears cost $131 at the low end and $476 on the high end, with a median of $161. For each of the five tests, the highest price was more than double the lowest, and the median was usually hundreds of dollars less than the most expensive.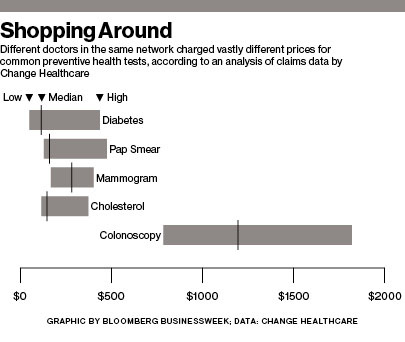 "The market doesn't function like a normal, efficient marketplace," says Douglas Ghertner, president of Change Healthcare. The 35-employee Brentwood (Tenn.) company is one of several startups trying to give patients and employers more transparency about how much they pay for medical care. By analyzing a health plan's claims data, Change Healthcare's software can tell employers and health-care consumers where less expensive options are available. "Buyers and sellers don't necessarily have full view into the information necessary to make rational decisions," Ghertner says.
The data in the new report include doctors in both rural areas and cities, which explains some of the cost disparity. But because each provider negotiates prices with health plans separately, doctors may also try to get higher prices for procedures they perform more often, Ghertner says.
Individual patients don't see the differences in price, especially because these preventive tests must now be fully paid for by insurance. For a lot of medical care, however, patients are increasingly asked to share costs with insurers. Opaque pricing makes it difficult to anticipate costs, says Linda Kohn, director of health care for the Government Accountability Office, who examined the issue in a report last year. "A lot of people say consumers are not price sensitive when it comes to health care, that it's not like buying other products," she says. "If people can't get the information, I don't know how people are supposed to be price sensitive."
The stakes for employers, and for the broader health-care system, are even higher. Change Healthcare estimates that a company with 20,000 employees could save $96,000 annually on the five screenings if patients who saw high-cost providers switched to median-cost providers. And a Thomson Reuters analysis published in February suggests that bringing the highest cost of procedures down to the median price could reduce total U.S. health spending 3.5 percent, or $36 billion annually for employer-sponsored plans.
Change Healthcare's analysis didn't take into account quality, so there's no way to tell from the data whether patients who got more expensive tests got better care, though all the providers were in the same network. And while the company's system can nudge people to consider seek less costly medicine, it provides quality ratings as well. "If we've learned anything through the years, [patients] want to know the cost information, and where quality information is available, they want that as well," Ghertner says. "You can't just drive people to the lowest-cost provider."
Before it's here, it's on the Bloomberg Terminal.
LEARN MORE