Funny or Die CEO Dick Glover Talks Online Comedy
By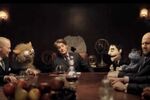 "Sure, we call our clients muppets, and sure, we advise them against their own best interests to make us richer. But does that make us bad guys?" actor Kyle MacLachlan, playing a Goldman Sachs exec, asks a muppet representing the Anti-Muppet Defamation League in a new Funny or Die video. The sketch plays off former Goldman executive director Greg Smith's resignation letter, which said some Goldman investment bankers had dismissed clients as "muppets." By publication time, the video had been viewed almost 73,300 times since going live on March 26.
"Why are you so greedy?" a muppet asks. "I don't know, why are you so hairy?" MacLachlan responds. "Touché."
"What's funny about Goldman Sachs is just that arrogance is funny. People who think they're of the utmost importance are always funny to me," says Alex Fernie, the 30-year-old Funny or Die writer and director behind the video. "The Greg Smith op-ed reveals what we always expected to be behind closed doors there."
Will Ferrell's FunnyOrDie.com has become hugely successful since launching in 2007. The site, featuring comedy videos from celebrities and no-names alike, is profitable, with about $30 million in revenue in 2011, reported Bloomberg News. The company would not confirm the figure, though it says revenue was up 40 percent to 50 percent last year.
Chief Executive Officer Dick Glover explains his strategy for the humor on the site, which draws 14.8 million unique visitors per month, according to figures from the company.
What's funny about Goldman Sachs?
Dick Glover: Our creative director, Andrew Steele, said, "What's NOT funny about Goldman Sachs! Timely satire about current events is a staple of funny."
Is user-generated content less appealing now?
Advertisers are no different from consumers. What they are looking for is quality. It isn't differentiated by who produced it, if it's user-generated, if it's young and independent or an established veteran. Is it funny to them?
For us, UGC is still important. … But it's about quality, not author. It has to be good.
How does Funny or Die work?
We believe in a model of: keep the cost of content and marketing low, keep the quality high. You can be very successful. By and large, for short-form videos, the [celebrity] talent are compensated in a number of ways but not a cash remuneration: complete creative freedom, great promotional vehicle for whatever else they may be doing. There's huge value there for the talent—acting, writing, producing, directing.
By marketing on a media system that exists [online], there are ways to reach people on a daily basis that isn't like having to spend $1 million on an ad on Thursday-night TV. It's almost the antithesis of the studio model.
How much do you spend on a video?
We do 25 to 30 videos a month and we spend less than $100,000 a month on average. For the most elaborate videos, we can have them idea-to-site in 10 days. For others, we can have a video up in 24 hours.
What's your biggest challenge?
Our greatest challenge has always been, and will always continue to be, to be funny every day, everywhere, again and again. If that were easy, everyone would do it.
Before it's here, it's on the Bloomberg Terminal.
LEARN MORE