Five Things You Didn't Know About the Google
Google vice president Marissa Mayer on the company's origins and its "creepy" email ads.
By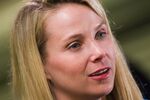 Marissa Mayer, Google's vice president of local, maps, and localization, was among the search company's initial recruits, joining in 1999 as a new Stanford University grad. She spoke with Bloomberg Businessweek Editor Josh Tyrangiel for 90 minutes Tuesday night before a Manhattan audience at the 92nd Street Y. Amid a life story of hard work and good fortune—Mayer, now 36, applied to 10 colleges and sorted through 14 first-job opportunities—she offered a few insider anecdotes about the company.