Baltimore Might Sell Historic Landmarks to Raise Money
By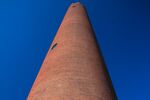 On Lanvale street in west Baltimore is a 174-year-old redbrick Greek Revival house with a charming white portico. It's called the Upton Mansion, and it used to be the home of a 19th century U.S. senator named David Stewart. Later it served as the headquarters for one of Maryland's oldest radio stations, WCAO, and after that it became the Baltimore Institute of the Musical Arts, one of the few African American schools at a time when other institutions did not accept them. In 2008, Baltimore added the building to its historic landmark list. A year later, the historical society Preservation Maryland marked it as an endangered site. That's because today, Upton Mansion has boarded up windows and is surrounded by a chain link fence. Baltimore can't afford to repair it. It has been vacant since at least 2006.
"There are places so deteriorated that we've had to fence off areas because it could be dangerous, the roof could be falling down," says Thomas Stosur, Baltimore's director of planning. The Upton Mansion is just one of 15 to 20 historic sites that Baltimore is having assessed by an outside consulting firm to see what state they're in. Stosur says the city owns more than 500 buildings around town and is conducting a comprehensive assessment on all of them "for the first time in generations." But the historical properties are of special interest because once the appraisal is complete, the city will consider putting the buildings up for sale.
The landmarks in question are scattered all over the city. Some are in respectable condition, while others, such as the Upton Mansion or the Peale Museum—the first building in the U.S. to be specifically designed and built as a museum—are vacant and crumbling.
"We don't see ourselves in the foreseeable future being able to raise or budget from city funding to do the types of repairs these buildings need," says Stosur. Baltimore's preliminary operating budget for the 2013 fiscal year is $2.3 billion, but it confronts a $48 million shortfall. The city is struggling financially and has been for years. Stosur says that only about $300,000 of Baltimore's annual budget goes toward maintenance and capital improvements for these historical buildings, and although the city plans to spend more in coming years, the money just isn't enough.
Other cash-strapped governments have turned to their buildings to raise money. Arizona sold part of its State Capitol complex—including the state's House and Senate and the executive tower that includes Governor Jan Brewer's office—to a private real estate company for $81 million in 2010. The state now leases the buildings and is seeking to buy them back, this time for an estimated $105 million. (Arizona has also sold several other properties, including state prisons.)
In 2010, Chicago's then mayor Richard Daley proposed selling ad space on the city's bridge houses—little structures next to the drawbridges along the Chicago River—although no one took the city up on the offer until last November, when Bank of America signed a 30-day lease and hung up some banners. Chicago has actually tried to sell ad space on everything from lifeguard chairs to garbage cans, with varying success. Can you blame it? The city had an estimated $635.7 million deficit last year.
This is the state of the financially drained American city. When taxes aren't enough and a city feels that it can't cut funding further, it hocks its buildings the way a hungry man might trade in a gold watch. Because of their landmark status, Baltimore's historic buildings require city approval before any potential new owners renovate them. "We're doing everything we can do keep them viable, functioning buildings," says Stosur. "We just don't have the money to bring them up to standard ourselves."
Before it's here, it's on the Bloomberg Terminal.
LEARN MORE