At Southwest, Not All Bags Fly Free
By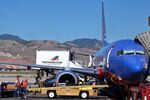 Southwest Airlines has made a virtual art of skewering rivals over their fondness for fees, from charges for checking in luggage to levies for changing a ticket. "Bags Fly Free," Southwest blares at nearly every advertising opportunity.
Free, that is, except when you fly on Southwest's wholly owned subsidiary, AirTran Airways, which charges $20 to check one bag, $25 for a second, and $75 to change a ticket. ("We don't charge you for changing your mind," Southwest says on its site.)
Southwest closed its AirTran Holdings purchase on May 2, 2011, and received a single operating certificate from the Federal Aviation Administration on March 1, 2012. The first AirTran Boeing 737 went into the paint shop earlier this month to get the Southwest livery. The two units have begun transferring domestic passengers and luggage to each other, and the first combined airport check-in areas will be introduced this summer.
AirTran's bag fees will outlast all those milestones—and could endure into the marriage's third anniversary—as Southwest works to integrate its technology and other platforms. So when will the fees disappear, as Southwest has long pledged?
"It's definitely something that's up toward the top of the list," Southwest spokeswoman Whitney Eichinger said Tuesday about aligning the brands' fees. "You can't say it's something that in the next year it will be completed but it's something we want to do." In response to a question about whether the fees muddle Southwest's "Bags Fly Free" campaign, Eichinger raised Akron, Ohio, as an example: AirTran flies there and Southwest does not.
The Dallas-based airline says AirTran remains an independent operation for now, with a unique onboard experience (a business class, for one) and separate marketing and advertising campaigns. The airlines also maintain separate websites and transfer buyers from one to the other to complete certain itineraries, based on the carriers' still-distinct networks. In the 2011 release announcing the deal's closing, Southwest executives said they would need "several years to fully transition AirTran into Southwest Airlines to become one airline." Collecting baggage and other fees—or not collecting them—is also a technology matter, Southwest says. "You can't just turn (a fee) off because you want to, because you have to figure how it works within the overall system," Eichinger said.
There's also a financial consideration: Bags and the other fees contribute to revenue. In the first quarter of 2011, the last period AirTran reported results, that airline had "other revenues" of $65.3 million, up nearly $2 million from a year earlier. That category includes things such as baggage fees, better seat assignments, ticket change and cancellation fees. The next quarter, after the deal closed, Southwest's "other revenues" category jumped 88 percent, to $224 million. (That category also includes a variety of items such as Southwest's $10 "Early Bird" check-in service.) For 2011, Southwest's "other revenue" rose 60 percent to $784 million.
"The AirTran brand is going to be out there for many, many months—at least to the end of 2013, if not 2014," Eichinger says. There's a good chance the AirTran bag fees will be there, too.
Before it's here, it's on the Bloomberg Terminal.
LEARN MORE