pursuits
Subscribe to Your Favorite Record Label With Drip.fm
By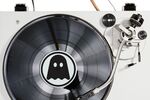 Ghostly International, a music label started more than a decade ago from a University of Michigan dorm room, has thrived in uncertain times for the music industry. In 1999, as Napster was wreaking terror in the hearts of record execs, founder Sam Valenti IV decided to create a label that was foremost a brand—he designed a logo before signing a band—where the album art and music, and eventually an online retail store that shills everything from wallets to calendars, were all part of its ethos. Building on its model of label-as-tastemaker, this year the company launched its most ambitious venture yet: a subscription-based music service called Drip.fm.
To capitalize on the loyalty of independent record labels' most ardent fans, the service allows labels to send subscribers every album release via e-mail for a flat monthly fee. For fans, it's a convenience product. For labels, it's a reliable stream of revenue every month. It's not meant to supplant other ways of accessing content, whether that's buying music on iTunes or streaming it on YouTube; it's an alternative for a subset of listeners—a modern fan club. "So many digital services have been released in the last few years," says Jeff Jank, digital manager of Stones Throw, a Los Angeles-based hip-hop label that launched the service for its fans in late January. "This is a rare service that is custom built for our niche." So far, 500 customers have pledged $10 a month for Stones Throw's "drip."
Drip.fm launched in what may prove to be a fortunate time. Consumers have become more comfortable with subscription services like Spotify and Rdio, not to mention the overwhelming influence of Netflix. But rather than access to an entire catalog, users get a scheduled stream of new content from a trusted label. "Part of [a record label's] real value to all their users is their taste. Why not offer those users the ability to buy everything that has to do with that taste?" says Andy Weissman, a partner at Union Square Ventures. "It's a really interesting way of redefining a relationship with the user that's very intimate. That's pretty cool."
Created by Valenti and Ghostly Digital Strategist Miguel Senquiz, Drip.fm launched in beta in May 2011. Ghostly had been searching for a similar service for years after fans expressed a desire for seamless access to the label's new releases. The retention rate of Ghostly's drip subscribers, a key indicator of whether the product will be a success, is more than 70 percent, which Valenti sees as a good sign.
Dirtybird, an indie label out of San Francisco, was the first non-Ghostly label to sign on, starting its drip last December. Mad Decent was the third label to launch a drip in mid-March and, according to Senquiz, another 10 labels are playing around with the platform. Drip.fm keeps 30 percent of subscription revenues from the service, though Valenti says that's mostly to pay for overhead and the revenue-sharing split may change as the service expands to more labels.
The ambition behind the launch of Drip.fm is forcing Ghostly International into new territory. For the first time, the company is making non-retail sales pitches to other labels to get them to sign on, contemplating a search for external funding, and offering a product that's bigger than the Ghostly brand. But the company sees big potential in the Drip.fm model. "I'm convinced there could be a drip out there for everyone," says Valenti. He views it as a flexible platform for delivering what he frames as a "rich RSS feed" of an album, that could include early releases, outtakes, or individual components of songs (called stems) used to make remixes. In other words, it could reframe how an album is marketed and consumed.
"What we're doing may not be relevant in 10 years," says Valenti. "Even if it doesn't work, we still would've done it."
Before it's here, it's on the Bloomberg Terminal.
LEARN MORE