Haas-Columbia EMBA Closing Next Year
Francesca Di Meglio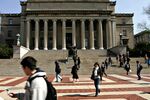 The University of California, Berkeley's Haas School of Business and Columbia Business School are eliminating their joint executive MBA program in 2013. The decision, which affects about 600 students and alumni, came as a shock to both communities, says Jay Stowsky, senior assistant dean for instruction at Haas, which made the announcement on Monday.
"People were surprised," he says. "In the end, they understood the business reasons for making the decision."
Launched in 2002, the program originally was about the East Coast meeting the West Coast and Silicon Valley meeting Wall Street, explains Stowsky. The focus was on the different assets each school brought to the table. Over the last decade, he adds, both schools became full-service programs that offered many of the same things to students.
Indeed, the market and landscape have changed, says Amir Ziv, vice-dean of Columbia Business School and a professor of accounting. He points to the decision both schools have made to create further EMBA programs that highlighted their diverging interests. Columbia extended its executive MBA programs, including its partnerships with London Business School, to form the EMBA Global America and Europe program and (with LBS and Hong Kong University) the EMBA Global Asia course. In addition, the school is now offering its EMBA New York program on Saturdays only. Haas, meanwhile, is hoping to launch its own EMBA program in May 2013, but must first secure approval from the UC system.
"We're going in different directions," says Ziv. "We were thoughtful and careful to do this while the program is still in great shape."
Still, current students are concerned about their future and alumni want to know what this means for the relevance of their degree. Both Stowsky and Ziv say the schools are committed to keeping these alumni and students as part of the Haas and Columbia networks. Students already in the program will complete their last two semesters and graduate. The schools are considering offering some additional benefits to keep students in the fold. For example, says Stowsky, Haas will offer currently enrolled students free access to executive-education classes.
Those who were already accepted to the program for the fall of 2012 have been offered three options: admission to the Haas evening/weekend program, deferred admission to the new Haas EMBA, and admission to the Columbia EMBA New York program (along with a stipend to help cover the additional travel costs for those commuting from California).
This is the first of many changes for professional education, predicts Stowsky. "Professional schools have to respond to market forces and local, national, and international conditions," he says. "You can't start a program and have it run for 200 years, like universities have always done in the past."
Before it's here, it's on the Bloomberg Terminal.
LEARN MORE