China's Surprising U.S. Buying Spree
By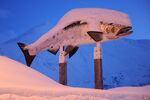 Guess which country this describes: U.S. exports to it are up 542 percent since 2000, compared with an 80 percent rise in U.S. sales to the rest of the world. Last year this country's purchases of U.S. goods grew 13.1 percent, breaking the $100 billion mark ($103.9 billion, to be exact) for the first time ever. Now this Asian nation is the third-largest buyer of U.S. exports, ranking behind only U.S. neighbors and free-trade partners Canada and Mexico.
Surprised to hear that it's China? That's understandable, given news reports of growing trade frictions between the two countries. Those are just some of the numbers revealed in the annual report published by the Washington-based lobbying association U.S.-China Business Council. "Exports to China are vital to America's economic health and create good jobs for American workers," the release by the council states.
The report points out that 30 U.S. states count China among their top three export markets and that 48 states have seen sales to China grow by triple digits since 2000, "far outpacing growth in their exports to the rest of the world." Over the last two years, 10 states have at least doubled exports to the mainland, the council's report says.
Alaska, for example, sold $1.4 billion of exports to China last year, more than to any other country, with the largest portion of that being seafood, followed by minerals and forestry products, the council says. Oregon sold $1.6 billion of electronics and computers to China, also its largest export market. Washington sold $4 billion in transportation equipment to China, its most important market. And the state of Texas sold $3.9 billion of chemicals to China, its third-most-important market, behind Mexico and Canada. (Overall, agricultural products, chemicals, computers and electronics, and transportation equipment are what China buys most frequently, the council says.)
Even as China buys more and more from the U.S., it continues to sell even more back. That explains the troublesome trade deficit, which ran at $272 billion last year and raises the ire of policy makers in Washington, who regularly demand that China let its currency appreciate faster. Most recently, President Barack Obama announced that his administration, along with the European Union and Japan, will take a case to the World Trade Organization against China's practice of limiting exports of rare metals, which are necessary for the production of a wide range of high-tech electronics and other goods.
According to the terms of such a trade case, China has 60 days to hold talks with the U.S., the EU, and Japan on the matter. If no agreement is reached, a formal trade action can be pursued at the WTO. American workers must have a "fair shot in the global economy," Obama said on March 13. "When it is necessary, I will take action if our workers and our businesses are being subjected to unfair practices."
China's restrictions on rare earths are aimed at protecting "resources and environment and realize sustainable development," said China's Foreign Ministry spokesman Liu Weimin on March 13. "Relevant measures meet WTO rules."
Chinese officials argue that their plans to make China a more consumption-driven economy will increase exports from other countries, including the U.S. Recently, Commerce Minister Chen Deming pointed out that with annual retail sales growth in China—up 16 percent to 18 percent in recent years—handily beating gross domestic product growth, China in a few years will become the world's largest importing nation, up from No. 2 now. "Trade remedy measures adopted by some developed countries are undesirable, because they are neither fair to other economies, nor just to domestic citizens and enterprises," Chen said on March 18, the China Daily reported.
Already, China's current account surplus has shrunk substantially, from a high of more than 11 percent of GDP in 2007 to 2.7 percent last year, says Louis Kuijs, an economist at Fung Global Institute in Hong Kong. While China plans to further cut import tariffs later this year, the "more important policy is measures to boost the role of domestic consumption," including promoting the service sector, providing a more equitable financial system that supports private and smaller enterprises, and bigger steps such as further reforming the hukou system of household registration that restricts movement, says Kuijs.
China may see 7 percent growth in exports this year and slightly higher than that for imports, predicted Commerce Minister Chen on March 7. That compares with 20.3 percent growth for exports and 24.9 percent for imports in 2011. "In the longer term, we think net exports contribution to GDP is marginal—it will be marginally positive or marginally negative," says Andrew Batson, research director at GK Dragonomics in Beijing. "It's not like after 2001, when China entered the WTO and saw that extraordinary export growth surge."