China Slows, Raising Questions for U.S. Growth
Global growth this year depends on China and the U.S.
by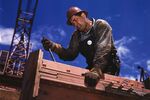 "Decoupling" is one of those whimsical terms that gets bandied about in the wake of the global economic crisis. Could emerging market stalwarts such as China, Brazil, and Indonesia chug along while the United States economy struggles?
Now, amid signs that China is seeing its biggest slowdown in three years, you're increasingly seeing the opposite question being asked: Can a resurgent American economy keep on healing—and even dominate global economic growth—while China and its developing peers slow down?
China's government has the unenviable task of juggling soaring home prices with its desire to boost consumption and wean the world's No. 2 economy from its over-reliance on exports and capital spending. Earlier this month, Premier Wen Jianbao tamped down the country's economic growth goal to 7.5 percent, from the 8 percent target that was in place for seven years. In the first two months of the year, China's all-important factory output increased at its lowest rate since 2009. In February, home prices—whose favorable prospects are baked into Chinese consumer confidence—showed the worst performance in a year, with sales falling 25 percent in the first two months. Meanwhile, U.S. business executives in China are biting their nails.
"If you look at the Chinese data, you should stop debating about a hard landing," Adrian Mowat, JPMorgan's chief Asian and emerging-market strategist, told a conference in Singapore on March 14. "China is in a hard landing. Car sales are down, cement production is down, steel production is down, construction stocks are down. It's not a debate anymore; it's a fact."
Whether or not you buy that argument, it's being made as the U.S. economy, still twice the size of China's, enjoys its best six-month streak of job growth since 2006. Investors have taken notice. The Dow Jones Industrial Average is just 7 percent off its 2007 all-time high; the MSCI Emerging Markets Index would need to rally 27 percent to make that bogey.
The thought of the U.S. decoupling its way into global economic leadership is a tantalizing one. There is semi-recent precedent: The late 1990s saw the American economy, markets, and currency all prosper while the Asian economic crisis subsumed China, Korea, and neighbors and helped knock down Russia and Latin America. That contagion never really hit these shores and had the welcome side effect of allowing Americans to disproportionately enjoy the fruits of tanking commodity prices; oil hit $10 a barrel in 1998.
Today, more than a decade after China's induction into the World Trade Organization, the country's economic fortunes continue to have a limited direct impact on the U.S. Imports from China chipped in a mere 0.1 percentage points to the U.S.'s 1.7 percent gross domestic product growth last year—hardly a make-or-break contribution. Still, in the timeless words of the old New York Telephone ad jingle, we're all connected.
And more than we've ever been. China was the top contributor to global economic expansion in 2010, after three unprecedented decades of average annual growth in the double digits had elevated hundreds of millions out of poverty. Its economy is four times the size it was just 10 years ago. A Chinese hard landing would drub inextricably dependent neighbors such as Taiwan, Thailand, Malaysia, and Korea, as well as commodity-export-driven economies like Brazil and Peru.
It also remains to be seen what a Chinese hard landing would do to Beijing's voracious appetite for U.S. Treasuries.
With the U.S. economy in the incipient stages of a recovery, the Federal Reserve has telegraphed its intention to keep rates near emergency lows until at least 2014. A jump in bond yields prompted by a Chinese retreat from Treasuries would not help.
Having said all that, it's premature to batten down the hatches and stockpile Slim Jims and Capri Sun for China's economic Armageddon. It's not as if China is defenseless. Beijing, for one, sits on $3 trillion in foreign reserves. Inflation in February hit a 20-month low, further freeing up policy makers to "ramp up money supply and stimulate the economy if they need to," says Mark Mobius, Hong Kong-based executive chairman of the Templeton Emerging Markets Group, which manages $50 billion in assets.
Big banks in China must abide by reserve requirements that are multiples of the 6 percent ratio they enjoyed as recently as 2003. Those reserve requirements could be loosened in a pinch. China's benchmark interest rate of 6.56 percent, moreover, has room to shrink, especially because central banks in Europe and Brazil have been cutting rates. Says Mobius: "China has a high savings rate, debt levels are low, and that means they are in pretty good shape."
Maybe things need not be so lopsidedly us-versus-them in the global growth sweepstakes. What if the U.S. grows faster, China and developing markets cool off but still grow, and global economic life goes on? That would be an ideal solution.
Before it's here, it's on the Bloomberg Terminal.
LEARN MORE