Chef Cyril Renaud's Office Bag Lunch
By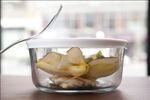 This month, chef Cyril Renaud opened La Quenelle in New York's Flatiron district. The new French restaurant takes the place of his creperie, Bar Breton, which previously occupied the same space. The Brittany-born chef, founder of the departed Michelin-starred restaurant Fleur de Sel, shares with Bloomberg Businessweek a version of his recipe for an endive salad served at La Quenelle. The dish has special meaning for Renaud, who sometimes makes it for his wife. It can be prepared the day before and is eaten cold. His favorite part: how the fruits play off the bitterness of the endives.
Cyril Renaud's Endive & Orange Salad with Pan-seared Chicken Breast, Toasted Almonds, Apples, and Pears
Ingredients:
1 chicken breast, cut into cutlets
3 endives
1 Tsp. toasted almonds
1 orange cut into segments
1 diced apple
1 diced Asian pear
1 Tsp. light soy mayonnaise
1 Tsp. chopped parsley
1 Tsp. vegetable oil
Directions:
In a sauté pan over medium heat, add vegetable oil and cook the chicken breast for three minutes on each side. Remove and put to the side.
Slice the endive and place in a bowl.
Add mayonnaise, diced apples, diced pears, and chopped parsley. Add salt and pepper to taste.
Mix well and place it in your "to go" box.
Add sliced orange segments and toasted almonds.
Finish by placing the chicken on top.