Adrian Grenier's New, Retro Beer Requires a Can Opener
by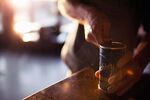 Before he was an actor, before he was an adult, Adrian Grenier was a kid in his grandmother's house. She kept a church key–style can opener in her drawer, the type with a pointed end that punctured triangular holes in cans. He only ever saw it used to open cans of Hershey's Syrup, stock, and condensed milk. But, he later learned, it was also used to open cans of beer.
Just over a year ago, in 2010, Grenier was at a birthday party with Justin Hawkins, a former Nike designer he met through friends. One of them asked, "Remember those old church key things? Why don't they have that [anymore]?" That night, the two "vowed" to bring them back, Grenier recalls.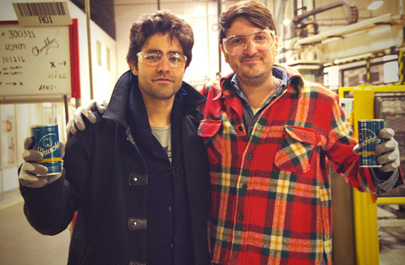 "I'm not particularly maudlin and nostalgic, but it was born out of a desire to try it ourselves," says Grenier, now age 35 and a resident of Brooklyn, N.Y. "We were creating it for our own enjoyment, and we knew our friends would enjoy it."
Working with a small budget, mostly money from friends, Grenier and Hawkins co-founded Churchkey Can Co., a brewery based in the SoDo neighborhood of Seattle, earlier this month. They brought on beverage industry vet Ryan Sowards as chief executive and hired a handful of employees.
Churchkey partnered with next-door neighbor Two Beers Brewing for production and canning (Churchkey has its own fermentation tanks and canning lines). It canned its first batch of more than 1,000 cases of Churchkey Pilsner last Thursday and is making more. The beer will be available in Seattle and Portland, Ore., starting April 15. A six-pack will cost $9.99 (it comes with a recyclable church key). At bars and restaurants, a can will be $3 to $5.
The recipe was developed by Hawkins's friends, Portland-based home brewers Lucas Jones and Sean Burke, who have been making beer together in their garages for years. The beer has a light, grainy pilsner malt taste, accented by a smooth, clean bitterness, according to a description from the company.
Hawkins, 33, created Churchkey's retro-style design, which uses a punctured can graphic for a logo. The company worked with packaging company Ball to bring back the flat-top steel can, which was introduced in 1935 and was the standard until the pull-tab came out in the mid-1960s. By the 1970s it had vanished.
The point, Grenier says, isn't to make another beer for binge drinking. "I think it's a new experience that helps build community." By working with home brewers and reviving the old flat-top can, "it's strongly connected to a heritage that we're all proud of. A real American heritage." But, he repeats, "I don't think it's nostalgic."
Before it's here, it's on the Bloomberg Terminal.
LEARN MORE