The Obama Campaign Dares Supporters to 'Say It: I Like Obamacare'
By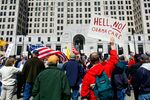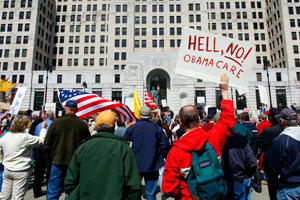 On the eve of the Supreme Court hearings on President Obama's controversial health-care law, Senior White House Adviser David Plouffe took to the Sunday morning talk shows with an almost apologetic plea to viewers to give up their opposition to the law's mandate. "Where the American people are right now is they don't want to go refight this battle again," Plouffe said. (Last time we checked, many of them did.)
Meanwhile, the Obama campaign was sending a far stronger message to supporters in the form of an outright dare.
In a Saturday morning e-mail blast—subject line: "Hell yeah, I like Obamacare"—top Obama campaign strategist David Axelrod challenged the base to "Say it: I like Obamacare."
The "Say it: I like Obamacare" hyperlink goes to a new website where people can pledge their support for the president's embattled law. The campaign also rolled out an "#ilikeObamacare" Twitter hashtag, which it reported had become the social networking site's top trending topic within hours.
This is a strategy reversal for the Obama camp, which has until recently been downplaying the administration's biggest policy achievement. In his State of the Union address in January, the president barely mentioned health-care reform.
"Obamacare," of course, is the term of the opposition—the ultimate epithet Republicans use against the president. This is the administration's late-in-the game attempt to co-opt the language. Given Plouffe's more tepid presentation on national television, it seems like the campaign is beta-testing the message with a friendlier audience.
Yet even as he dares supporters to "like Obamacare," Axelrod's disgust for the term clearly comes through. In his e-mail blast's "side note," which he includes below his signature, Axelrod makes this point:
"Can you imagine if the opposition called Social Security 'Roosevelt Security'? Or if Medicare was 'LBJ-Care'? Seriously, have these guys ever heard of the long view?"
Before it's here, it's on the Bloomberg Terminal.
LEARN MORE