Small Businesses Caught in Battle Over Export Aid
by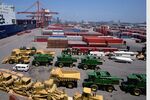 Hoffman International, a 65-employee construction equipment dealer in Piscataway, N.J., is trying to send $45 million worth of cranes, excavators, and other machinery to the government of a sub-Saharan African country that needs to build roads. The deal, two years in the works, won't get done without a loan guarantee from the Export-Import Bank, and unless Congress acts, the bank's ability to help may expire at the end of May.
"For a small business company, it's like the lifeblood of any deal," says Musya Tumanyan, Hoffman's vice president for global exports. "No other institution will do it."
Ex-Im, as the bank is known, is a federal agency that offers loans, loan guarantees, and insurance to American exporters and foreign buyers. Created in 1934, Ex-Im needs Congress to periodically renew its charter to continue lending. Its current authorization expires May 31. Last week the Senate didn't approve its reauthorization.
For Hoffman, which exports to 80 countries, Ex-Im financing is crucial. "We're competing with major manufacturers of the world," Tumanyan says. Banks won't finance foreign trade for small and midsize companies, she says. "They don't look at our customers being creditworthy."
The company, along with Ex-Im itself, is caught in a dispute between Boeing and Delta. Delta has sued Ex-Im over loans to help struggling Air India buy planes from Boeing, and the airline industry is leading the fight against Ex-Im's reauthorization.
Fred Hochberg, Ex-Im's chairman, says that 87 percent of the bank's transactions and 20 percent of its financing dollars go to small businesses. The uncertainty over renewal is already endangering some deals for exporters, Hochberg says. One Ex-Im client, a steel products exporter in Baltimore, says customers are already looking at competitors in Germany, according to Hochberg. "They need to know if we're going to be there or not," he says. "Doing it at midnight on May 31 still damages the company."
He says that even assistance to aircraft manufacturers such as Boeing helps smaller companies in their supply chain. "We've got an agency that creates jobs, does it at no cost to the taxpayer, and actually makes money," Hochberg says. "It's a little perplexing where the concern is coming from."
Before it's here, it's on the Bloomberg Terminal.
LEARN MORE