The Hunger Games Is Just Lions Gate's Latest Hit
Karl Taro Greenfeld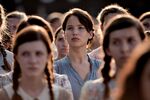 How loud is the buzz around The Hunger Games? So powerful that my 12-year-old daughter, who stayed home from school because of a sore throat, snuck out of the house Friday to take in an opening-day screening. That's never happened before. (And my wife has angrily sworn it will never happen again.) My daughter's transgression is a tribute to Lions Gate's marketing of the film—supposedly done on the relatively modest budget of $45 million—that adroitly used social media to lure in the demographic that can make or break an opening weekend.
Whether Hunger Games performs or overperforms this weekend, Lions Gate Entertainment, the studio that produced and distributed the first film in the projected trilogy based on the Susan Collins novels, has already emerged as the big entertainment industry winner of 2012. The independent, Santa Monica (Calif.) studio—though with a market capitalization topping $2 billion, the term "indy" probably no longer applies—has emerged as a pop-culture and financial force unrivaled in Hollywood.
Just how powerful Lions Gate's reach has become will be clear by Sunday night, when many of us too old to bother with an opening-day screening of Hunger Games will be planted in front of our TVs to watch the two-hour season premier of the Lions Gate-produced series Mad Men on AMC. Later this year will come the latest installment of another Lions Gate franchise, the Twilight series, new seasons of other TV properties, such as Weeds, Nurse Jackie, and Tyler Perry's House of Payne. And following in 2013 will be adaptations of Orson Scott Card's bestselling Ender's Game and more Tyler Perry projects, such as the February film Good Deeds.
How did Lions Gate, which started as a horror-film distributor in Vancouver in 1997, become such a force across racial and generational demographics? By shrewdly building both a film and television library and a pipeline of potential franchise pictures. It started by going after those films that were too controversial for American studios. American Psycho was the company's first hit in 2000, and such movies as Saw, Gods and Monsters, and Dogma followed. Lions Gate's biggest hit before Hunger Games was Michael Moore's Fahrenheit 9/11.
But Jon Feltheimer, Lion's Gate co-chairman and chief executive, has done more than pick a few winners. He has also strategically built Lion's Gate to deliver earnings and generate cash by acquiring the film libraries of  Trimark Holdings, Artisan Entertainment, and Mandate Pictures, accumulating an inventory of 13,000 film and television titles, including Dirty Dancing, Total Recall, and the Rambo series, as well as such TV shows as Will & Grace and Biggest Loser.
But what separates a major studio from an independent are the franchises: Think Disney and Pirates of the Carribbean, Paramount and Iron Man, and Time Warner's Harry Potter juggernaut. Investors love the smooth future potential earnings promised by a string of franchise films extending to the horizon. To ensure that Lion's Gate will not only compete but perhaps take the lead, Feltheimer in January acquired Summit Entertainment, producers of the Twilight saga, for $412.5 million, giving the minimajor two megafranchises—and adding to debt of $1.1 billion.
That figure is what may have cautioned some investors this week, who drove the stock from its midweek high of nearly $16 to $14.53 on Friday, as some analysts saw the release of Hunger Games as a sell sign on the shares. Still, the stock has run up from $8.25 in January, and institutional owners, including media guru Gordon Crawford of Capital Research Global Investors, remain bullish on the company. "I think they're going to be a major," Crawford told Bloomberg News for a March 20 story.
They should be a major well before the last of the Hunger Games films hits theaters, around 2015. My daughter will likely be a high school junior by then—and I imagine that sneaking off to see a movie will be the least of my worries about her.
Before it's here, it's on the Bloomberg Terminal.
LEARN MORE