The Five-Point Plan of Jim Kim, Obama's Choice for World Bank Chief
by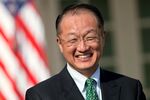 Dr. Jim Yong Kim, the Korean-American physician who's in line to become the next president of the World Bank, has a five-point plan for fighting disease and poverty. It's not his alone, but rather the "model of care" developed by Partners in Health, a nonprofit he co-founded in 1987 as a young doctor. If you want to know where Kim plans to lead the World Bank, you could do worse than check out the Partners in Health plan and listen to its interpretation by Ophelia Dahl, the organization's executive director and a co-founder.
The World Bank, while not a charitable organization, lists fighting global poverty as one of its central themes in the effort to spur development.
Partners in Health combats drug-resistant tuberculosis in Lima, Peru, and HIV/AIDS in Haiti. It's also active in Guatemala, Mexico, Lesotho, Malawi, Rwanda, Burundi, and Russia. And in a twist, it has begun applying in Boston—its headquarters city—some of the strategies that it developed for poor countries. Here are the five points of its model of care, with comments from an interview today with Ophelia Dahl. (She is, incidentally, the daughter of actress Patricia Neal and author Roald Dahl.)
1. Providing universal access to primary health care. Sounds expensive, but Dahl says "it's really expensive not to do that." In Haiti, she says, there is a folk expression that captures the folly of trying to treat diseases without caring for the whole person: "It's like washing your hands and drying them in the dirt."
2. Making health care and education free to the poor. Even small fees—a dollar or two—are enough to discourage poor people from taking advantage of health care and education, says Dahl. Something as small as making sure that girls attend primary school can reduce their likelihood of contracting HIV/AIDS later in life.
3. Hiring and training community health workers. The key here is to pay them, says Dahl. In poor communities, even well-intentioned people can't afford to volunteer as community health workers because they need to scratch out a living. The pay doesn't have to be high: In Rwanda, she says, community health workers get $240 a year. In Haiti, the community health workers prefer to be called accompagnateurs because they accompany people.
4. Fighting disease means fighting poverty. Says Dahl: "We realized that you can give people access to vaccines and medicines, but if they have no access to food, it's crazy." Attacking disease and poverty together can take a generation to succeed, she warns: "It requires most of all a long view and tenacity."
5. Partnering with local and national governments. When Partners in Health started in Haiti, during the Duvalier dictatorship, it built its first clinic "under the radar." Patients streamed in. But the founders quickly realized that the only way to make a lasting difference in the country as a whole would be to improve the government's clinics. "People at other NGOs (nongovernmental organizations) tell us, 'Oh, it's so much easier to work on your own.' I agree with that, but in the end I don't think it's going to be a lasting effect."
Kim, says Dahl, "is a superb accompagnateur" in the Haitian model. "He is a diplomat. What he's very adept at doing is looking at how to break the cycle of poverty and disease that's written on the bodies of the poor."
Before it's here, it's on the Bloomberg Terminal.
LEARN MORE