How Exactly Does HP Invest in the Future?
Another day, another reorg. Why HP's Meg Whitman must have more daring moves in store for the troubled company
By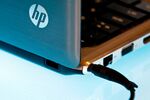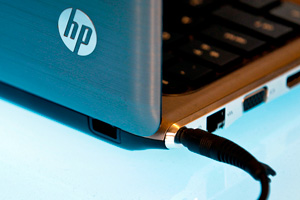 Hewlett-Packard's decision to merge its PC and printing businesses into a single entity does not stand out as a terribly novel idea. The company was for this structure (under Carly Fiorina) before it was against it (under Mark Hurd). And Hurd had contemplated merging the units near the end of his tenure to chase the same proposed gains from unifying the supply chain, branding, and support that Meg Whitman now hopes to realize.
What must keep Whitman awake at night are the far more daring moves that HP will need to take to reawaken its business. Chris Whitmore, an analyst at Deutsche Bank, issued a research note this week that framed HP's competitive position in the starkest of terms.
Whitmore notes that HP spends less on research and development per year than IBM, Oracle, or Cisco Systems. Keep in mind that HP is a larger company than any of those rivals, and competes in a wider range of businesses—PCs, printers, servers, storage, software, and networking. Oracle, by contrast, mostly deals in software, while Cisco concentrates on networking. If you take out the money HP spends on printer R&D, it runs about the same as a pair of companies that are even more specialized, Apple and EMC. Over the past six years, HP's R&D spending as a percentage of revenue has gone down about 25 percent.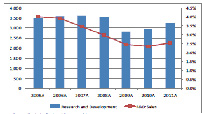 HP, a $130 billion-in-revenue-per-year, one-stop-shop technology colossus, has been investing in products as if it were doing battle in a niche market. Digest that for a minute. It's a wonder HP has managed to get new products out the door at all.
True, HP does not need to spend as much as rivals in some respects. It relies on partners such as Intel and Microsoft to do a little of the innovation heavy-lifting and then uses its reach to sell products. It has also used $40 billion in acquisitions over the past four years to plug gaps.
As Whitmore points out, though, that strategy does not seem to have worked. HP has gone three years without any meaningful cash flow growth. "Either $40 billion went down the rabbit hole or [HP's] core business is under duress," Whitmore writes.
HP still does not seem to have a smartphone or tablet strategy, while the margins on PC sales remain tight. The company's moneymaking printer division has started slipping and its services business has failed to meet expectations. (Making matters worse, Whitmore estimates that 75 percent of HP's services deals are tied to PCs, printers, and high-end servers—all of which face tremendous pressure.)
Having added all this up, Deutsche Bank slapped a $20 per-share value on HP, which closed at $23.03 on Thursday.
An HP spokesman declined to comment on the Deutsche Bank research note, and instead pointed to comments Whitman made recently during a call with investors.
"We didn't make the investments we should have during the past few years to stay ahead of customer expectations and market trends," Whitman said. "As a result, we see eroding revenue and profits today. We need to invest now as a market leader from a position of strength, and that's especially true because these businesses are not only under intense competitive pressure but are also under pressure from tectonic shifts that are taking place at the very foundation of the industry."
So, yes, she is aware of the problems.
"We need to move quickly to capture emerging opportunities in areas like cloud, security, and information management," Whitman continued. "We've already assembled some formidable assets. Now we need to align our portfolio to deliver a new generation of capabilities. We see a once-in-a-generation chance to define the future of technology and position HP as a leader for decades to come."
Right. There's the call to arms.
So, let's assume for a moment that HP's new leaders aren't just rehashing the old ideas of old leaders. Whitman must have something far more drastic in store. Right?