B-School Research Briefs
Francesca Di Meglio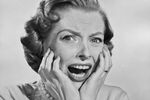 Humans are a complex and mysterious breed, and understanding how we think can go a long way toward improving business. To that end, business school research is often focused on discovering hidden motivations for human behavior— and ultimately, more effective ways of reaching out to both employees and consumers. Recent studies from top business schools may not have cracked the code, but they go a long way toward explaining what makes us tick.
After analyzing the influence of various ad campaigns around the world, researchers at the Arizona State University Carey School of Business concluded that advertisements intended to get people to be healthier—stop smoking, wear sunscreen, and so forth—must both scare and disgust viewers to be most effective, according to an article published in February in the Journal of Marketing Research.
When people are in a more positive frame of mind, they are more creative and productive. The most important factor of all to having a good day is feeling as though you are making progress, according to Harvard Business School professor Teresa Amabile, whose research on the psychology of everyday work life is featured in the book she co-authored, The Progress Principle (Harvard Business Review Press, 2011).
Recent research from the Northwestern University Kellogg School of Management reveals that first-generation college students would perform better if schools focused on interdependent norms—working collaboratively and connectingwith others—as opposed to such independent norms as self expression that dominate today's universities. The study, which will be published in an upcoming issue of the Journal of Personality and Social Psychology, said such independent values can undermine academic performance in first-generation students.
Managers who compare co-workers to one another, through raises and promotions or differential treatment, diminish trust among colleagues in the workplace, according to a paper written by professors at University of Pennsylvania's Wharton School, Michigan State University's Broad College of Business, and University of Washington Foster School of Business. The researchers looked at two kinds of trust: cognitive (faith in one's abilities) and affective (faith in one's relationship with a person). Although cognitive is easier to mend than affective trust, employers can benefit by boosting employees' perception of their value without pointing out how they have outpaced anyone else and by offering team rewards. The paper was published by Organizational Behavior and Human Decision Processes.
Researchers from the Stanford Graduate School of Business and Kellogg recently discovered that how people react to conflict depends on what, exactly, is at stake. In a paper published in the Journal of Experimental Social Psychology, the authors found that people who faced threats to their relationships wound up exhausted and weak, whereas those who faced conflicts related to their material interests or identities felt motivated to take action. The information is useful, say researchers, because it helps employers better understand the different reactions to conflict their employees might display. A worker who feels his interests are at risk might work harder, while one who feels relationships are at risk might withdraw.
Before it's here, it's on the Bloomberg Terminal.
LEARN MORE