The Push to Put Building and Industrial Codes Online
By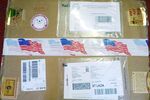 Carl Malamud is a California provocateur who's something of a celebrity among transparency advocates. In the 1990s, he began buying Securities and Exchange Commission filings and putting them online. After a trial period, he took the database down and replaced it with the SEC's phone number. The outcry that followed drove the commission to create Edgar, its free online filings database that's now widely used.
Last week, Malamud launched his latest public service. He bought and photocopied 73 sets of industrial standards—building codes such as UL 142 (1968) Steel Aboveground Tanks for Flammable and Combustible Liquids—and then FedExed them to 25 businesses and government offices. The boxes weigh 27.9 pounds apiece. They're wrapped in American flag packing tape and display stickers of animals, including a seal that's surrounded by a ribbon reading, "The Great Seal of the Seal of Approval." (The seal's the mascot of Malamud's Public.Resource.Org, a transparency advocacy group.) The last sticker reads, "Handle with care!" and continues:
Statutory Damages for Copyright Violation is $150,000 per registered infringement. We believe the facsimiles contained herein are a fair use under Copyright Law and under the U.S. Constitution, an exercise of our right to free speech and an attempt to engage government in a discussion of public policy. But if a judge decided you were contributing to the infringement of these 73 documents, they might sock you for $10,950,000, so be careful out there!
Malamud believes that UL 142 (1968) lies in the public domain since it's a law. But it was written by a standards development organization (SDO), a nonprofit that works with companies and government agencies to write industrial code. SDOs claim a copyright on the codes they write. Malamud sent the American National Standards Institute, an SDO, a box. The American Society for Testing and Materials, the Society of Automotive Engineers, and eight other SDOs also got a 27.9-pound box from Malamud.
The boxes are a publicity stunt and a dare: Sue me.*
Why should you care whether industrial and building codes are in the public domain? First, on principle. The SDOs charge for copies of the codes: $65 to get a standard from the Society of Automotive Engineers, $847 for a workplace safety standard from Underwriters Laboratories. Yet standards from both of these organizations have been written into federal law, and it shouldn't cost money to read a law.
Standards organizations will argue that without the copyright, they can't fund the valuable work they do. They have a point. (And their work is valuable.) But in 2002, the U.S. Fifth Circuit Court of Appeals decided in Veeck v. Southern Building Code Congress International, Inc. that even though SDOs hold copyright on codes that haven't become laws, they lose that copyright when their code is adopted by a legislature.
Malamud's Public.Resource.Org is testing the breadth of that decision. The Fifth Circuit set a clear precedent, but the organizations continue to claim copyright; the only way to clear up this uncertainty is to violate it. Malamud has precisely calculated the depth of his liability if he's wrong. "While whales may make bigger bets," he wrote in a manifesto to the tech site Boing Boing, "we draw the line at $273 million."
You could look at the costs as rents, which the standards organizations can charge by controlling acccess to the law. Rents should offend you. They offend economists, at least. They add up, and they put a drag on growth.
Why else should you care about putting industrial and building codes in the public domain? Because controlling access to the basic tools of government slows innovation. Just think about how Malamud's public airing of SEC filings empowered non-institutional investors.
Steve Schultze, who has collaborated with Malamud in the past and now serves as associate director of Princeton University's Center for Information Technology Policy, points out that by opening up building and industrial codes, we'll see a round of innovation: better, more searchable guides for plumbers and electricians. How-tos on building to code for homeowners. The argument, as it was for the SEC's database, is that information creates investment. I don't blame you if your eyes glaze over during discussions of copyright and fair use, but the thought of the growth that could come from that investment, at least, should excite you.
* UPDATE FROM MALAMUD:
'Sue me' is the exact opposite of our message. Our message is pretty simple: we have the law on our side, we put a huge amount of effort into creating the first print edition of these standards, we fully intend to move forward and publish, so *DON'T SUE ME* because we are very serious about doing this and intend to see it through to completion. We did the same thing when we started publishing the building codes in 2007. We have not had a single letter of protest from the SDOs and certainly have not been sued. It is our absolute hope to keep that record intact. If I had wanted the SDOs to sue us, we would have moved straight to electronic publishing. Instead, I put them on notice and it is our sincere hope that we can go about our business of making the law available to the public and they can go about their business of making high-quality standards. As we stated in our transmittals, the only folks not doing their job right now are the government officials who have been content to keep public policy ambiguous and contradictory.
Before it's here, it's on the Bloomberg Terminal.
LEARN MORE