TED Goes to the Movies With 'Prometheus' Promotion
Julian Sancton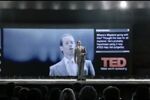 At the TED Full Spectrum conference in Long Beach, Calif., earlier this month, inspiring, provocative speakers spoke of the future. Peter Diamandis predicted a new era of innovation and abundance. Penn scientist Vijay Kumar enumerated the practical uses of small, agile, flying robots that eerily portended the machines in The Matrix. The theme of robots was reprised in a video of a TEDTalk claiming to be from the future—2023, to be precise—delivered by Peter Weyland, a swaggering industrialist who described the imminent possibility of creating lifelike androids. "At this moment in our civilization," he said, "we can create cybernetic individuals who, in just a few short years, will be completely indistinguishable from us."
Weyland's superior confidence, diction, and cheekbones seemed out of place to anyone who has ever sat through a typical TEDTalk. No surprise, as they belonged to actor Guy Pearce. The video, directed by Ridley Scott, showed Pearce pacing a stage at the center of an enormous arena, beneath countless video screens and a bright, red TED logo. Science fiction fans quickly realized the video was part of a sly viral publicity campaign for Scott's upcoming Alien prequel, Prometheus, in which android characters play a crucial role. The video was followed by a fake ad, released earlier this week on YouTube and elsewhere, for Weyland Corp., featuring Michael Fassbender as a fresh, out-of-the-box robot. The clip was released, surely not coincidentally, at the same time as a new trailer for Prometheus, which Fox plans to release this summer.
This is not the first time a studio has created a multimedia extension of a film's fictional world. Just as Sony did in 2009 with the fake community-watch site promoting District 9, Fox has built an entire website for Weyland Industries that doesn't once mention Prometheus.
It is, however, the first time TED's respected name was used for promotional purposes, at least as far as TED community director Tom Rielly can remember.
"This was an extremely unusual opportunity for both TED and Scott Free," says Rielly in an e-mail. (Scott Free is the production company co-owned by director brothers Ridley and Tony Scott.) "We are delighted with the outcome."
The presence of the video on TED Full Spectrum's home page raises questions about the nonprofit's mission, and its independence from corporate influence. But Rielly, who says TED received no money to license the TED name to Scott, says the video was more than crass promotion and brought as much attention to the TED brand as it did to the film.
"We don't look at this as a commercial for Prometheus, but rather as a mutually beneficial relationship," he says. "We got to have Ridley Scott's team create a science-fiction TEDTalk, which was a real honor for us as fans of his oeuvre, and the clip's launch generated millions of video views on our website, mostly from people who had never visited before (our raison d'être for this project). We also had over 250 news articles in the first three days. It definitely got people talking."
TED is in the business of promoting bold ideas, and it was certainly a bold idea to promote a film using the TED name. When Rielly was first approached about it, he was intrigued. "I received a call in April from Damon Lindelof, the screenwriter of Prometheus and former co-show runner of Lost," says Rielly. "We are friends from the TED community. He had written a script for the [video], which I loved. We never spoke to Fox until the very end."
With all his experience in futurism, Rielly was able to give Scott and Lindelof a good sense of what a 2023 TED event might look like. "I prepared an extensive briefing on all the visual and audio aspects of a TEDTalk circa 2012 and a corresponding speculation on how things would work in the future (2023). The flying video cameras and live Twitteresque feedback on the rear monitors were two of my ideas that I contributed."
Before it's here, it's on the Bloomberg Terminal.
LEARN MORE