Marc Perry, a Trader Turns Trainer
A former hedge funder who found his calling whipping desk jockeys into shape
By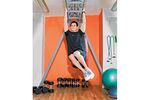 Right as the U.S. stock market was coming off the rails in 2008, Marc Perry was poised to move up the financial food chain. He had received second and third callbacks from hedge funds larger than the one at which he worked as an analyst, Centurion Investment Group. But something nagged him, and it wasn't the subprime crisis. It was the prospect he'd actually get one of those jobs, further entrenching him in a career that failed to fulfill his desire to help people more tangibly. So he quit it all and hit the gym.
A lifelong obsession with fitness—"I was always that skinny kid reading muscle mags," he says—helped prep Perry, 30, to ace his personal training certifications; soon the Long Island native and Yale graduate had permanently shed his Zegna suits for sweats. The money he earned right away from his training business in midtown Manhattan financed his development of BuiltLean, a complete fitness and nutrition plan aimed at getting working professionals in shape through books and online videos. "I thought I could connect my insights into the urban professional lifestyle," he says. "For the busy guy with a tough job, how can you stay in shape and eat well?"
Perry now peddles his program on BuiltLean's website, alongside advice on how to stay healthy on a business trip and the best workplace snacks. Revenue is on track to surpass $250,000 this year from $30,000 in 2009, Perry says, and he's since hired three trainers and 10 bloggers. His site's audience has grown to 250,000 unique visitors a month. "I think I've attained the physique that I've dreamed about," he says. "Now I want to help others reach their potential."
 
Marc's Best Advice
 
1. Find the right heroes. Jack LaLanne was Perry's longtime role model, not Stephen Schwartzman. If you don't look up to the leaders in your field, it's a good sign you're not in the right one.
 
2. Put your eggs in one basket. Perry wasted time in the beginning trying to create a BuiltLean sub-brand before realizing that "every dollar I spend promoting one brand is a dollar I'm not spending on another," he says.