German Copycats Clone Amazon.com
The notorious Samwer brothers have launched a copy of the world's biggest online retailer
by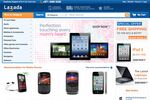 Germany's Samwer brothers, known for cloning American companies' business models and launching copycat versions abroad, have some bold new source material: Amazon.com, the world's biggest online retailer.
The recently launched rip-off site, Lazada.com, replicates Amazon's orange, blue, and white layout and even mimics the little orange smiley-esque arc in Amazon's logo (though the arc has been replaced by a tiny shopping cart silhouette on some of Lazada's international sites).


According to TechBerlin, the German blog that broke the news, Lazada aims to serve Indonesia, Malaysia, Philippines, Singapore, Thailand, and Taiwan—countries in which Amazon hasn't yet locked down the market. TechBerlin's sources say the Amazon clone is headed by ex-McKinsey man Maximilian Bittner. In an e-mail, Oliver Samwer described Lazada as an early stage startup, headquartered in Singapore, that focuses on consumer electronics.
The Samwer trio—Marc, Oliver, and Alexander—have already cloned the likes of eBay, Zappos, Pinterest, Fab, Airbnb, and Groupon, and made more than $1 billion in the process. Most of their targets were smaller, U.S.-focused startups with limited resources at the time the Samwers discovered them. Amazon is a global company with an $88 billion market capitalization and plenty of lawyers around the world. The Seattle-based company declined to comment.
The brothers' formula has worked in the past, thanks to Rocket Internet, their well-funded clone factory, which has offices in at least 20 countries to facilitate speedy and aggressive international rollouts. In 2010, for example, Rocket enabled the brothers to replicate Groupon in 14 countries in just five months. "It was a marathon of short sprints—it was like we had a United Nations of Entrepreneurs in a race car," Oliver Samwer said of Rocket's Groupon clone rollout. "I never even counted the number of employees we had."
In February, Oliver Samwer told Bloomberg Businessweek that he doesn't see anything wrong with launching pixel-by-pixel copies. "There's a certain humbleness," he explained. "First you need to learn from people who are more experienced. … From there, you can start innovating yourself."
Before it's here, it's on the Bloomberg Terminal.
LEARN MORE